Toxic stress can vary in the ways it appears in our children. Read more below to observe a combination of academic articles and TED Talks to inform you on toxic stress.
What is Toxic Stress?
Studies over the 50 years have convincingly demonstrated that early childhood adversity can lead to lifelong impairments in learning, behavioral, and both physical and mental health. In 2012, AAP released a landmark policy statement outlining the genetic, neurological, hormonal and physical changes that can result in lifelong threats to a child and family unless addressed early in life.  The types of stress response defined in this paper are:
- Positive
- Tolerable
- Toxic
This initiative is a community response to the information about toxic stress and is intended to mobilize pediatricians, families and other community partners to recognize and address these stresses before they weaken a child's growth, learning and potential?
Resources on Toxic Stress
The Connection Between Asthma and Toxic Stress
The National Committee on Asthma and Toxic Stress (NCATS) convened a webinar to discuss research on asthma and toxic stress and presented clinical management guidelines for asthma in the setting of toxic stress. CME credits are available for this recorded webinar and additional courses regarding ACEs.
Pediatric Perspectives: Associated Health Conditions and Pediatric Stress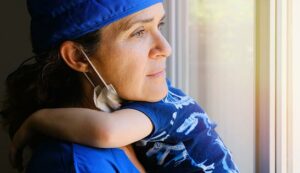 Learn from Dr. Diane Dooley, MD,MHS, FAAP and Dr. Renee Wachtel, MD, FAAP about the effects of toxic stress. We know that the screens for ACEs and social determinants of health tell us who belongs to the population at risk for toxic stress, but they do not predict who's going to have toxic stress or an associated health condition. We also know that everyone with asthma does not have toxic stress.

Child Development, Perinatal Depression and Social Determinants of Health
Learn more about screening for toxic stress with this resource.
Join the Movement to Screen, Treat, and Heal Toxic Stress
Dr. Nadine Burke Harris discusses the benefits of addressing toxic stress by getting trained to screen for ACEs.

The Lifelong Effects of Early Childhood Adversity and Toxic Stress
Jack P. Shonkoff, Andrew S. Garner, The Committee on Psychosocial Aspects of Psychosocial Aspects of Child and Family Health, Committee on Early Childhood, Adoption, and Dependent Care and Section on Developmental and Behavioral Pediatrics, Benjamin S. Siegel, Mary I. Dobbins, Marian F. Earls, Andrew S. Garner, Laura McGuinn, John Pascoe and David L. Wood
Pediatrics January 2012, 129 (1) e232-e246; DOI: https://doi.org/10.1542/peds.2011-2663
How Childhood Trauma affects Health Across a Lifetime, TED Talk with Dr. Nadine Burke Harris
Learn from CA Surgeon General, Dr. Nadine Burke Harris on the long term effects of toxic stress, and what we can do as pediatricians to address it.

Using Relational Health During the Pandemic to Help Prevent Toxic Stress in Your Child, Patients and Clients
The informational sheet below encourages you to recognize toxic stress in your patients and how to improve relational health and child maltreatment.
I Want To Learn More About
Getting Started
I am unfamiliar with ACEs, and would like to learn more about what it is and how I can best address it among the patients I practice on.
Deeper Dive
I know what ACEs is, but am a bit uncertain on how to screen for these factors and ask about them.
Advanced
I feel comfortable with my knowledge of ACEs, but want to learn how to best engage other practices to implement ACEs informed care in a sustainable way.