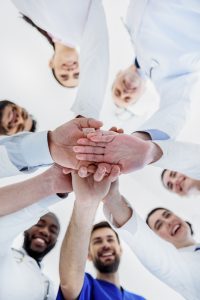 AAP California Chapter 1 (AAPCA1) offers unmatched opportunities for members to connect and engage with other members to inspire positive change at the local level:
Two CME conferences per year with opportunities for post conference networking.

Monthly Chapter Newsletter

Opportunity to participate in Chapter Committees
We are involved with pediatric training programs in Northern and Central California and our members at large (MAL) represent different areas of the region. Recognizing and acting upon local needs is the core purpose of AAPCA1. We strive to support our members at all levels.
If there is no MAL representing your area, we welcome you to become that leader.
The Value of Your Membership
Advocacy
Increase involvement in the legislative arena to positively influence the quality of pediatric practice and the welfare of children in Northern California

Build coalitions with other organizations to  improve children's health and well-being

Promote the interests of California pediatricians in the American Academy of Pediatrics

Collaborate with statewide legislative advocacy efforts on behalf of children and pediatricians in California

Participate in National AAP sponsored advocacy training and advocacy summit

Receive timely legislative alerts
Leadership
Contribute to Chapter Committees working on child health issues

Run for chapter office and serve on the Board of Directors and represent the pediatric colleagues in your Northern California community

Participate in chapter projects directed at community action
Networking
Network with other pediatricians with similar interests via committees

Become a mentor/Find a mentor

Represent chapter and state affairs in National AAP positions
Education
Receive discounted registration for all Chapter 1 CME activities

Receive pediatric updates in our  chapter newsletter

National, State and local professional pediatrics updates for your practice

Learn more about how the recertification process works and be prepared to successfully complete this process

Public health posters and handouts for your practice and your patients
Pediatric medical providers are eligible for Chapter Membership. If you would like to help us but aren't a pediatric provider, click HERE to donate to our Foundation.