Census 2020
#2020Census #EveryChildCounts #CountAllKids
.
Everyone living in the United States is asked to complete a simple questionnaire every ten years that asks for basic information about the people who live or sleep in their home.
The 2010 census missed more than 10% of all children under age 5 in the U.S
Every year more than $77 billion in federal funds is allocated to California based on census data
Incomplete counting or "undercounting" threatens funding for programs that children rely on
"Children are consistently the most undercounted demographic in the census, which determines how much funding state and local governments receive for programs aimed at keeping kids healthy. These include Medicaid (Medi-Cal), the Children's Health Insurance Program, Supplemental Nutrition Assistance Program (SNAP) and Women, Infants and Children (WIC) programs, among several others. " – AAP
"As pediatricians, we understand the vital importance of the many federally funded programs that support the health and wellbeing of our patients," writes Eve Meltzer Krief, MD, FAAP, in a new "AAP Voices" blog post. She encourages health care providers to remind families that households include everyone living there – from newborns to adults.
This is especially important as children under the age of five are the most likely to be missed. Young children who are not counted in the census tend to live with large, extended families or with multiple families living under one roof. When newborn babies and children are not included, support for programs such as health insurance, hospitals, childcare, food assistance, schools, and early childhood development is impacted. Reduced support for these important programs could ultimately lead to poorer health outcomes for the children you serve.As a pediatrician, you are a trusted member of your community and your voice makes a powerful impact. Join us to spread the word about the importance of the 2020 Census and help ensure a complete and accurate count.
What can you do?
 Become informed
 Talk to your patients
..
.
Information for Parents: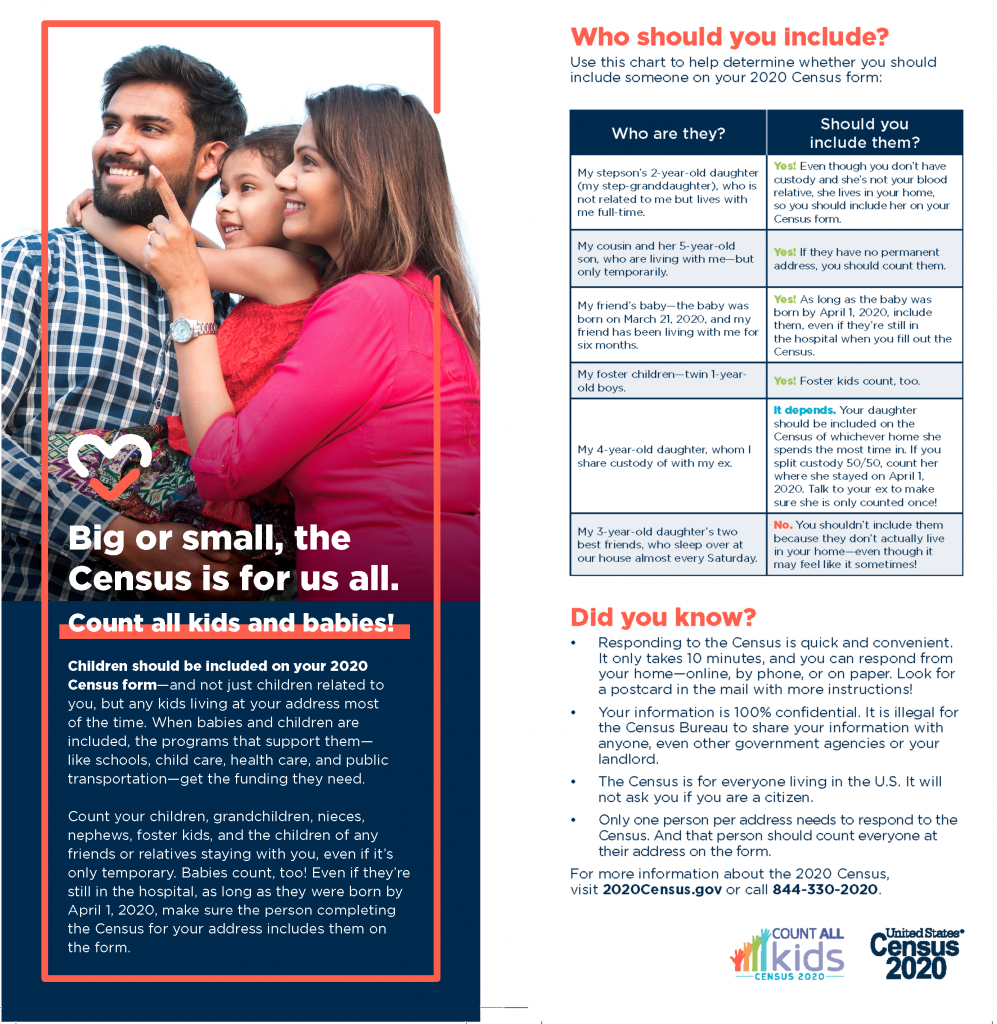 .
How should you handle questions you don't know? Here are some FAQ, if you do not know the answer you can refer families to a local Census Worker.
.Q: What is the census?
A: The census is a count of every person who lives in the United States and its territories. It happens every 10 years. In April, you will be asked to count everyone who lives in your home as of April 1. Responding the 2020 Census is a chance to shape your future!
Q: What's in it for me?
A: Your response helps to inform where and how federal funding for programs, clinics, schools, roads and businesses will be distributed in your community. Your response also helps to influence your representation in the U.S. House of Representatives, plus it is your civic duty!
Q: Is my information safe?
A: Your responses to the 2020 Census are safe, secure, and protected by federal law. Your answers can only be used to produce statistics. They cannot be used against you by any government agency or court in any way- not by the FBI, not by the CIA, not by the DHS, not by ICE.
Q: When can I respond to the census?
A: In March and April, every household in America will receive a notice to complete the census online, by phone, or by mail. In May, the U.S. Census Bureau will begin following up in person with households that have not yet responded.
Q: What will I be asked?
A: You will be asked a few simple questions, like age, sex, the number of people who live in your home, including children.
.
Q: What won't I be asked?
A: The census will never ask for Social Security numbers, bank or credit card numbers, money or donations, or anything related to political parties.