What is the Data Exchange Framework?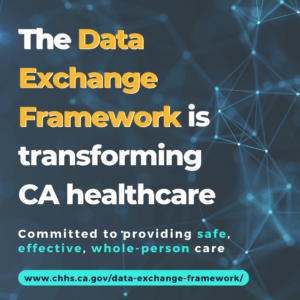 The data exchange framework is an agreement across health and human services systems and providers to share information safely. That means every health care provider can access the information they need to treat you quickly and safely; health care, behavioral health and social services agencies can connect to each other to deliver what Californians need to be healthy; and our public health system can better assess how to address the needs of all communities.
Hundreds of experts and members of the public have spent the last year shaping a framework that delivers on these principles. On this website, learn more about the progress toward seamless data exchange that will improve Californians' experience of health care, support California's whole-person care transformation, and put consumers in the drivers' seat with our health data.
Why is it needed?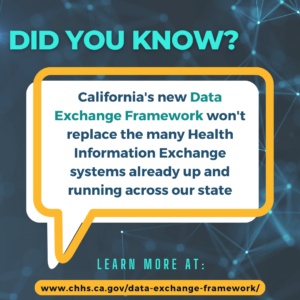 Every Californian, no matter where we live, should be able to walk into a doctor's office, a county social service agency, or an emergency room and be assured health and human services providers can access the information they need to provide safe, effective, whole person care—while keeping our data private and secure.
This is the goal of California's Health and Human Services Data Exchange Framework, a first-ever, statewide data sharing agreement that will accelerate and expand the exchange of health information among health care entities, government agencies, and social service programs beginning in 2024.
Learn more about the California Data Exchange and signing agreement requirements here: https://www.mwe.com/insights/10-things-providers-should-know-about-californias-data-exchange-framework/
What Can I Do?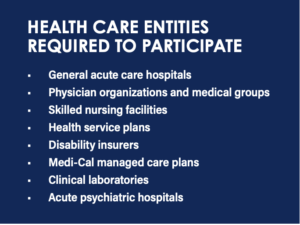 Get ready – Work with your Practice Leadership and/or Chief (Medical) Information Officer to ensure that your patient's health data can be shared with the California in a manner that adheres to professional and legal obligations related to pediatric/adolescent data privacy and access. Ensure that the California Health Data Exchange Framework fits with your ongoing health data exchange efforts--including EHR-vendor-based data sharing and initiative to share information with schools and community-based organizations.
Take Action - On November 29, 2022, CalHHS launched a Signing Portal to allow health care providers, plans and other health care organizations to sign the DSA.
How many times have you seen a patient in your clinic with mental health concerns and discovered at the end of the visit that they were already seeing a therapist? The Data Exchange Framework (DxF) is an opportunity to create equitable and affordable health information exchange
AAP CA Chapter 1 has engaged with the CalHHS to communicate with stakeholders about the evolving statewide health information exchange framework as mandated by Assembly Bill 133. Signed into law by Governor Newsom in 2021, the bill called for (1) a single data sharing agreement to be executed by all California healthcare providers and (2) a common set of policies and procedures for data exchange that participants will follow. CalHHS is charged with implementing these elements through a stakeholder-driven consultative process.
The world of real-time data exchange between health care agencies, hospitals, community-based organizations, and social service agencies is coming quickly, with electronic exchange of health and social services information for many Californian health and social services providers anticipated by January 31, 2024.
On February 13 the Office of the National Coordinator for Health Information Technology (ONC) took a significant leap forward toward comprehensive nationwide Health Data Exchange when it announced the first set of Qualified Health Information Networks (QHINS).
CDII has allocated up to $47 million for DSA Signatory Grants that provide support to DSA Signatories to subsidize their efforts to implement the DxF. The program includes two grant options for Signatories: QHIO Onboarding Grants and Technical Assistance (TA) Grants.
In July 2021, Governor Gavin Newsom and the California State Assembly enacted AB 133 (Chapter 143, Statutes of 2021), which calls for a statewide health and human services data exchange framework.
Chapter Chat: Chapter Chat – California Data Exchange Framework (DxF) Town Hall #2: Updates and Grants – 5/25/2023
Chapter Chat: The Data Exchange Framework Initiative – 1/24/2023
Resources and More Information
Do you have questions or want a presentation for your group? 
Contact Sana Sayyid at projectcoordinator@aapca1.org or contact here:
This grant program is only made possible thanks to donations to the Friends of Children Fund.