Being familiar with ACEs is a good start! It is important that we know how to effectively understand the screening process and approach trauma informed care from separate approaches.
Building knowledge and advocating together can strengthen our communities, our practices, and ourselves
As medical providers, we believe part of our responsibility in ACEs screening is to prevent the inequitable conditions responsible for our patients' adversities and the barriers to care that make screening and prevention burdensome to a pediatric practice. We also value knowledge and research; communally gathering information about the underlying causes and patterns of ACEs and how to address them will advance efforts to improve the lives of our patients now and in the future.
I Want to Learn More About
Leverage your familiarity with ACEs by incorporating it into your practice!
Asking and Listening is an Effective Way to Address ACEs, Here's How:
We may not always be aware of the non physical problems our patients have. As a trusted medical home, for our patient-families, let's learn how to effectively ask.
Our offices have always been a place where patient-families feel safe. We have worked so hard to build that trust. More and more evidence-based links exist between Adverse Childhood Experiences (ACEs) and future health outcomes. The 2-hour ACES AWARE training provides pediatricians a great opportunity to understand better how asking and listening to our patient-families does make a difference even if the problems continue to exist. Time for us to continue asking and listening - we have always done so. And we want our patients to continue feeling safe and heard.
Social Media Toolkit to Share With Your Networks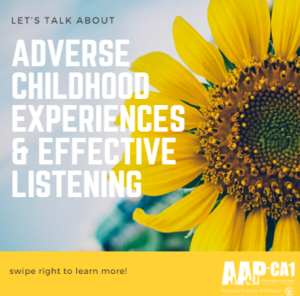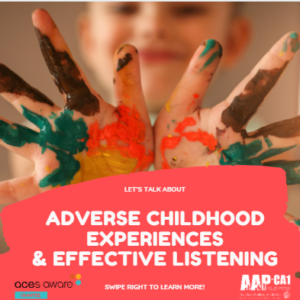 How Childhood Trauma Affects Health Across a Lifetime
Follow Dr. Nadine Burke Harris' TED Talk linked below to understand the trajectory of trauma in a child's life, and how we can best work to combat it.
The Lifelong Effects of Early Childhood Adversity and Toxic Stress
Follow the long term effects of toxic stress on children over the course of their lifetime in this informative policy article by Jack P. S Jack P. Shonkoff, Andrew S. Garner, et al in the Official American Academy of Pediatrics Journal.
Getting Started
I am unfamiliar with ACEs, and would like to learn more about what it is and how I can best address it among the patients I practice on
Advanced
I feel comfortable with my knowledge of ACEs, but want to learn how to best engage other practices to implement ACEs informed care in a sustainable way.