Immigrant Health
As physicians, we are privileged to provide care to families from diverse populations and countries of origin. The health of children in immigrant families is linked to the sociopolitical context in which they live. The history and continuous changes of immigration policy at federal, state, and local levels have shaped the health of these communities. Such shifts have had various impacts on health and healthcare access for immigrant communities, many times detrimental to their overall health.
Fifty percent of California's children have at least one immigrant parent. Many counties in our chapter have populations where one-third of the residents are immigrants. Making healthcare facilities a safe space for immigrant families as well as optimizing care is an important goal for the chapter and its members.
.
Initiatives

COMBATTING PUBLIC CHARGE RULE MISINFORMATION
This program aims to dispel misinformation about the public charge rule through a two-pronged approach that creates accurate resources with current and periodically updated information for 1) physicians and 2) immigrant families and advocates.
.
Statements
AAPCA1 Statement on Violence Against Children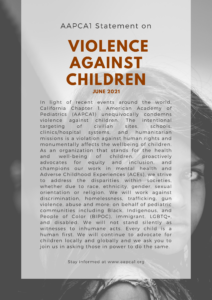 .
AAP National's Statement on Treatment of Haitian Immigrants at U.S. Southern Border