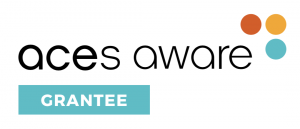 .
As part of an effort to help our members address heightened family stresses and disruptions, California Chapter 1, AAP recently received $75,000 in grant funds from the Office of the California Surgeon General (CA-OSG) and the Department of Health Care Services (DHCS) to participate in the state's ACEs Aware initiative. Our Communications grant funds will be used to enhance our Chapter's outreach to Chapter 1 AAP members about the ACES AWARE initiative by augmenting our staffing and expertise in the area of toxic stress and its effects upon child health and development. We will be  developing  messaging and informative materials that give providers the tools needed to identify adversities, discuss them with families in a therapeutic manner, and refer patients to resources and support when needed.  We see our proposed communication strategy as a way to help pediatric providers enrich their trusted partnerships with families, address traumas, and reconnect families to their medical homes and community programs. Our grant will be for 1 year and is part of $14.3 million awarded to 100 organizations throughout the state to extend the reach and impact of the ACEs Aware initiative. Isra Uz-Zaman MS, Renee Wachtel MD and Diane Dooley MD wrote the grant and will serve as the steering committee members for this initiative.
We are seeking interested Chapter members to apply for two advisory positions relevant to the grant. 
Think-Tank Members
2 pediatricians are being recruited who will be selected based upon an interest in, and knowledge of trauma-informed care.  The two pediatricians will work together with our think tank members to build our messaging materials and help connect pediatricians in Northern and Central California with resources and trainings using our website, social media, newsletters, Chapter Chats and print materials.  
The duties and responsibilities of the Think-tank members will be to:
Provide guidance

regarding best practices in the prevention of, primary care interventions for, and community resources addressing adverse childhood experiences

Develop the messaging

, materials and testimonials relevant to the grant.  The think-tank will be consulting with Berkeley Media Studies in this effort

Meet twice a month

virtually on Tuesday afternoons with other think-tank members. Meetings will probably decrease to once a month starting in January. Members will be expected to attend 80% of these meetings.

Contribute time

to the ACEs Aware communications effort by dedicating time to contributory projects between meetings.  

Convene

one Chapter wide virtual Chat on a core principle or skill of trauma-informed care
In addition to the Steering Committee and the two pediatricians selected, the Think Tank will consist of one member representing the Chapter's ASHEW grant and one representing the Chapter CAPET committee. We encourage additional members from these projects/committees to apply.
Think-tank members will receive a quarterly stipend of $1000, potential CME and unlimited gratitude from our Chapter members for leading this initiative!
Circle of Support Members
Interested Chapter members are also invited to participate in this grant as part of the Circle of Support.  The Circle will meet virtually every other month and will:
Provide support

for the grant activities

Offer feedback and suggestions

on grant messaging, materials, Chapter chats and testimonials.

Strategize

on and support partnerships to amplify the grant messages and impact. 

Assist

in integrating the messaging and activities from this grant into present and future Chapter programs and priorities
Circle of Support members will not receive a stipend, but may receive CME for some of their participation. 
Applications for these positions are due by July 24.  The first Think-tank virtual meeting will be held on August 11, 2020.
Contact Isra Uz-Zaman, Program Manager, via email at info@aapca1.org for further information.