The Annual Leadership Forum (ALF) is an annual meeting of the American Academy of Pediatrics chapters, committees, councils and sections to advise the Board of Directors of the AAP. The ALF has five primary aims:
To draw upon multiple areas of expertise within the Academy to advise and make recommendations to the Board of Directors.
To promote communication and networking among the leaders of chapters, committees, councils and sections.
To incorporate diverse perspectives in the discussion and debate of leading pediatric issues.
To integrate and promote understanding of AAP strategic priorities and the policy development, education and advocacy functions of the Academy.
To provide leadership education and inspiration for Academy volunteer leaders.
.
ALF 2021 Updates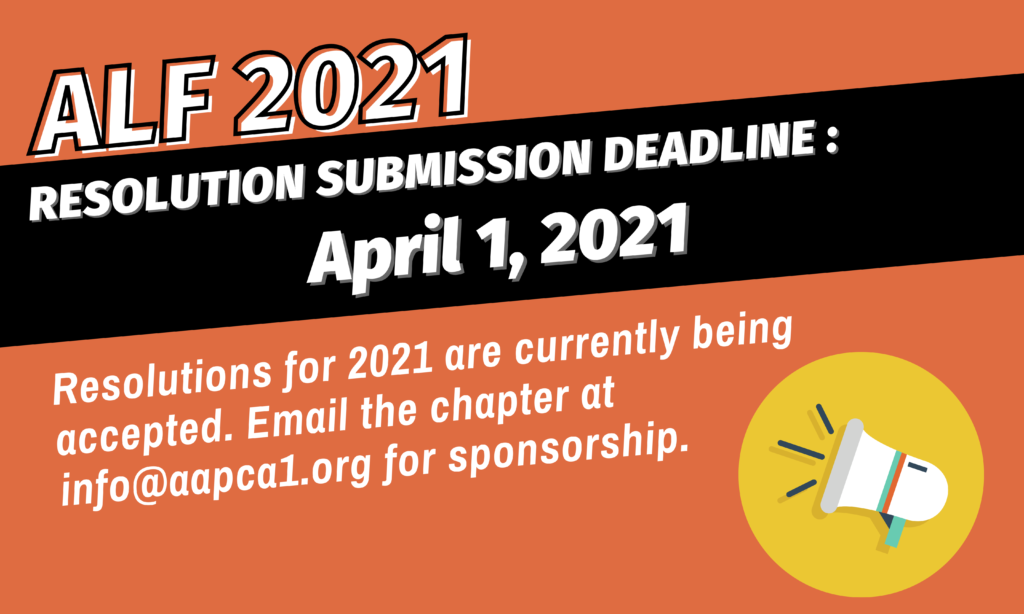 .
ALF 2020
AAP leaders emphasized the need to combat racism and improve mental health care, placing several resolutions about each in the top 10 during the Annual Leadership Forum. During the meeting, leaders also approved the development of an anti-racism bylaws referendum. Read the published article HERE.
Top 10 National ALF Resolutions for 2020
Below are the voted top 10 resolutions for 2020. These resolutions were chosen from about 90 submitted by AAP groups and members for consideration.
Addressing Structural Racism Within Healthcare (Co-Author is AAPCA1 Immigrant Health Task Force Chair Alexandria Valdrighi, MD, )
Supporting Child and Youth Mental Resilience in Schools
Creation of Task Force on Immunization Advocacy and Hesitancy
Ask All Children, Adolescents and Their Families About Racism, Discrimination and Bias (Author is AAPCA1 member Gretchen Graves, MD, FAAP)
Developing a Pediatric Model for Value Based Payment
Prohibit the Use of Race-Based Medicine
Unmet Need of Inpatient and Outpatient Mental Health for Children
Advocate for Paid Parental Leave and Mother Baby-Friendly Workplaces
Physician Burnout Must be Prevented by Change in Healthcare Delivery Systems
Expanding Training on Psychiatric Conditions for General Pediatricians
To view the full text of the resolutions, visit https://collaborate.aap.org/alf/Pages/2020-Resolutions.aspx
.
Chapter Sponsored Resolutions for 2020
All of our chapter sponsored resolutions this year passed. Thank you to the authors for putting their resolutions forward and congratulations!
Collaborate with Early Childhood Education and Child Care Providers to Identify Children with Developmental, Behavioral or Emotional Challenges – John Ichiro Takayama, MD, MPH, FAAP, Steven Merahn, MD, FAAP, & Jennifer Zubler, MD, FAAP
National Standards for Nutritious School Meals and Beverages Should be Followed – Nivedita More MD, FAAP
Make Protecting LGBTQ Children a Priority Federal Advocacy Issue – Abby Walch, MD, FAAP
Reuse the Styrofoam! – Robin Winokur, MD, FAAP
Standardized Protocol for Rapid Response to Immigration and Customs Enforcement (ICE) in Healthcare Facilities – Alexandria Valdrighi & Allison Black, MD, FAAP
Ask All Children and Their Families About Racism, Discrimination and Bias – Gretchen Graves, MD, FAAP
Incorporation of Climate Change Into Annual Well-Child Checks – Amanda Millstein, MD, FAAP & Lisa Patel, MD, FAAP
Preventive Mental Health Care for Pediatric Residents – Zoey Goore, MD, MPH, FAAP
Political Misinformation on Social Media Impacts Child Health – Rhea W Boyd MD, MPH, FAAP

Correct Spelling and Pronunciation of Names – 

John Ichiro Takayama, MD, MPH, FAAP & 

Abimbola Dairo, MD

Addressing Structural Racism Within Healthcare – Alexandria Valdrighi, MD & Marsha Spitzer, MD, FAAP
Racism and Police Brutality are Public Health Crises that must be Addressed – Alexandria Valdrighi, MD & Marsha Spitzer, MD, FAAP