Welcome to the second blog post for the CDC Project Firstline/AAP Partnership!
 In this blog post, we will address the following topics:
Infants born to mothers with COVID-19
Practical strategies for telehealth
Addressing PPE shortages
Workplace exposures
Below is a case study designed to look at some of the processes we might consider as we navigate care for sick children during the pandemic, followed by a discussion forum to share thoughts and resources.
Picture This: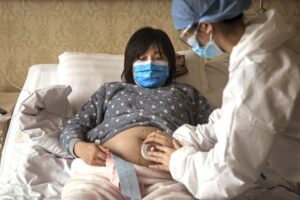 You are the PCP for a family with a new infant on the way. Shortly before her due date, the pregnant mother develops a cough, and subsequently tests positive for COVID-19. With early signs of labor, she is admitted to a local hospital.
Prior to delivery, the mother calls your office to ask for your advice on how to best protect her infant during and after delivery. She states the hospital is offering options to either room in with her infant with PPE, or to have her infant separated at birth. What would you recommend to the mother?
You review this AAP webpage on the management of infants born to COVID-19 positive mothers, and share with the mother that with good infection prevention measures, infants who room-in with mothers do not appear to be at increased risk of acquiring COVID-19. Breastfeeding is encouraged with maternal masking and hand hygiene. 
Based on your discussion, and talking to postpartum staff, the family decides to have the infant room in. Labor and delivery go smoothly, and a healthy baby boy is born. The mother  remains with only mild COVID-19 symptoms, and never requires oxygen. Prior to discharge at 3 days of life, the infant receives a negative COVID-19 test, and is discharged to home, with plans to see you in clinic for an initial newborn appointment two days later.
You look at the schedule and see that your first visit of the day is with your newborn infant whose mother is recovering from COVID-19.
To minimize staff exposure, you have established a tiered system where the first part of most in-person visits history is gathered via telehealth, followed by an in-person exam and any procedures or vaccinations to minimize time in the room. On telehealth you review that the infant remains asymptomatic from a COVID-19 standpoint. In these situations the AAP recommends proceeding with an in-person newborn check-up. When it is time for the in-person portion of the exam, the infant is brought in by the infant's father, who has been isolating from the mother and also has no COVID-19 symptoms. You still use full PPE per your clinic policy for the visit. 
The visit goes well, and the infant has been successfully breastfeeding with a masked mother. You plan to continue with regular phone follow-up until 14 days of life with the family to assure there are no concerns to symptomatic COVID-19. 
As you sit down to chart, you get a message that a 15 year-old you saw for a well-child check yesterday has since developed a cough and fever and their younger sibling tested positive for COVID-19. Your medical assistant notes that she had been in the room for 5 minutes collecting vitals with a surgical mask but no other PPE. The patient and all family members were masked during this time. She asks you whether this counts as a workplace exposure and what she should do.
You review the CDC Interim U.S. Guidance for Risk Assessment and Work Restrictions for Healthcare Personnel with Potential Exposure to SARS-CoV-2. You reassure her that even prior to vaccination, this exposure would have counted as low risk, given that both she and the patient were masked. Furthermore, your entire clinic staff is now vaccinated, and as of March 10th, the CDC has updated their guidance to differentiate vaccinated from unvaccinated exposures. Per the new guidelines, fully vaccinated people with no COVID-like symptoms do not need to quarantine or be tested following an exposure to someone with suspected or confirmed COVID-19, as their risk of infection is low. However, you recommend that she still monitors for symptoms of COVID-19 for 14 days following an exposure and that she of course continues to follow clinic protocols with regards to masking and other PPE.
Picture This: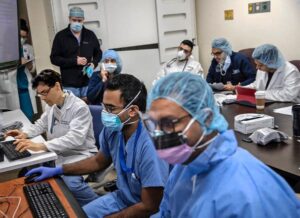 This morning before seeing patients, you have your weekly  clinic meeting with all providers and staff. At the start of the pandemic, given that studies showed up to a third of healthcare workplace COVID-19 exposure came from coworkers, you transitioned this weekly clinic meeting to video. You join from your office with the door closed, appreciating getting to sip your coffee while the day starts.
Your clinic nurses manager starts by reviewing clinic revenue and PPE supplies.
Early on in the pandemic your office implemented a partial transition to telehealth. In addition to this approach decreasing the risk for exposure between patients and staff, it also has allowed a percentage of your staff and providers to work from home each day, decreasing the number of providers sharing the office space. You are not surprised to learn that many other AAPCA1 pediatricians who reported the most success adapting to the pandemic also made a partial transition to telehealth. 
You initially relied on this AAP webpage which discusses some logistics and financial concerns needed for introducing telehealth. For much of 2020 the clinic struggled with decreased revenue, attributed to decreased patient volume, increased expenses, and some lack of payment parity for telehealth. As your telehealth practice has grown, you have appreciated the ongoing guidance from this AAP webpage, which addresses telehealth in the context of the pandemic. 
Your nurse manager reviews some of the steps that have allowed your telehealth practice to become sustainable. Over the pandemic there has been a move for payers to pay for telehealth visits at parity with in-person visits. You have also been able to increase your productivity over telehealth through multiple clinic adaptations. These included introducing a HIPAA compliant "chat system" to facilitate discussion between staff even when working remotely (there are many available). For your in-person visits, to report expenses incurred during a Public Health Emergency (PHE), including supplies and additional clinical staff time, you have also have also used the CPT code 99072 when appropriate. You have also developed EMR templates specific to video visits to facilitate charting. 
Questions to consider: What billing strategies and efficiency tools have you used to facilitate telehealth in your practice? Within your region, how much success have you had at achieving parity in telehealth billing? 
Picture This: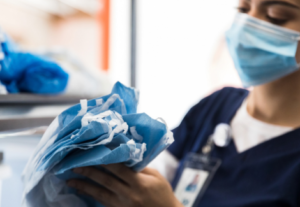 Your nurse manager also notes that your supplier of PPE is reporting backorders on gowns and eye shields. You ask her to calculate how many more days of supply that you  have.

Your clinic started out by using the CDC PPE "Burn rate" calculator, which is a free downloadable Excel sheet. Since then, you've transitioned to a mobile app which has been even more convenient to use. Using the burn chart, she demonstrates that you are using eye shields at a rate of 2 boxes/day, and that at this rate you only have 7 days left. However, you still have 21 days of gowns remaining at current use. 
Your staff expresses concern about how severe your PPE shortages are. You point out that per the calculator, you are now in the "Contingency Capacity" area for gowns and "Crisis capacity" for face shields. To review this, you go to the CDC Strategies for Optimizing the Supply of PPE during Shortages webpage. 

Your staff notes they have been using multiple disposable eye shields per day. Based on the CDC strategies, and also approved by the AAP, to decide to update your clinic PPE policy to reuse eye protection (such as goggles and/or face shields) between patients. Between seeing patients with COVID-19 compatible symptoms, eye protection should be sanitized. An advantage of using a face shield is that it may permit you to reuse your mask between patients with COVID-19 compatible symptoms as well.