Welcome to the first blog post for the CDC Project Firstline/AAP Partnership!
Once a month, we will be discussing information to help us pediatricians do what we can to safely care for our patients during the COVID pandemic. The purpose of this series is to consider the complexities and current state of knowledge related to keeping ourselves, our patients, and our staff safe from SARS-CoV-2/COVID-19. We developed these blogs in partnership with all of you and we appreciate you sharing your feedback regarding your frustrations and successes as you navigate the pandemic from the clinics and hospitals where you serve your patients. These forums are not meant to be an exhaustive source of information. Rather, they help us leverage one another's existing knowledge and resources to discuss the important questions we confront daily, in order to more effectively and creatively address these challenges.

Protecting People from Pathogens
Of course, we all know that the best way to stay safe from SARS-Co-V-2 is to avoid coming into contact with it. But we've all experienced that in practice this is easier said than done.
For us, the clinicians, three parts of this puzzle are:
How do we keep people out of the clinic/hospital who don't need to be there?
For those who do need to be there, how do we minimize contact between individuals once they are inside?
How do we protect those who have no choice but to be inside near others?
Below is a case study designed to look at some of the processes we might consider as we navigate care for sick children during the pandemic, followed by a discussion forum to share thoughts and resources.
Picture This:
A parent calls your clinic to have her 4 year old child seen for a runny nose and cough.
Your staff does their best to gather basic information for you. The parent denies known exposure to COVID and reports that the child does not have a fever. Your staff asks you whether it is ok to schedule this child to be seen in the clinic today, and if they should tell the parent anything specific with regards to preparation for the visit. You know this patient well, as he is a regular patient of yours. He is an asthmatic whose symptoms are usually well-controlled on Flovent with occasional need for albuterol, but he had a flare about a year ago, which required brief hospitalization.
Triage: How has your practice changed its triage procedures since the start of the pandemic? 
The CDC has helpful information regarding triage during the pandemic here. 
You decide to schedule a telehealth visit so that you can get a better idea of the current severity of his symptoms to  help you determine whether he needs to be seen in person. You review the AAP document that addresses telemedicine as triage.
Picture This: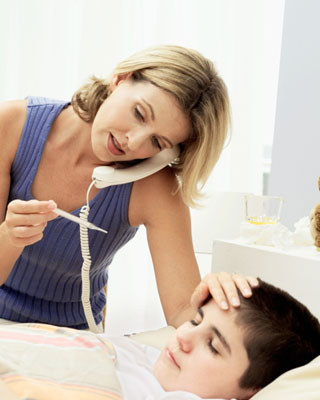 During the telemedicine visit, you see that he appears ill enough to be seen in person. You also learn that after his mom got off the phone with your staff, she learned that he had an exposure to a COVID positive individual over the weekend at a small outside family gathering during which he had his mask off while he was eating. When his mom checks his temperature during the telemedicine visit, she gets a reading of 101 degrees F.
What unique opportunities/challenges does your office set-up, patient population, etc...present that affect how you provide care during the pandemic?
You decide to do a "car visit". You are fortunate that your clinic has an easily accessible parking lot with a small area you have blocked off for the purpose of seeing patients like this outside of the clinic when possible. You instruct the parent to call and inform your staff they have arrived. You put on the appropriate PPE in anticipation of collecting a specimen for COVID testing. You have recently reviewed this information from the CDC so you know how to do this correctly. You have also recently reviewed this resource which provides some more helpful information from the AAP.
You ask the mom to give her son 2 puffs of his albuterol with a spacer and mask prior to driving over, and you request the mom bring the albuterol and spacer and mask with her to the appointment. You also request they bring their face masks. The mom has some questions about  whether her son really needs a mask so you send her this resource to review.
When they have arrived, you begin the visit with the patient sitting in the car on his mom's lap. You are able to obtain a specimen for COVID PCR testing. You are also happy to see that your patient's work of breathing is somewhat improved after the albuterol treatment mom administered at home. You do feel you need to have him do a second treatment and you want to monitor him for a bit but it is just starting to rain so you decide he needs to come into the clinic. Fortunately, his mom has brought their masks and your patient's respiratory status is stable enough that you believe he will be ok wearing the mask to walk through the front of the clinic. You have him come directly into the exam room to minimize exposure to others. You have previously consulted with your facility's management and you have reviewed the CDC document regarding air exchanges per hour requirements so you feel confident that you have done what you can to ensure reasonable ventilation in the clinic rooms. You also have a HEPA filter in the exam room.
Since the pandemic began, your clinic has been bringing all patients back promptly to exam rooms where paperwork, vital signs and other pre-visit tasks can be completed away from shared spaces.
Your asthmatic patient has been brought to the designated "sick" area of the clinic. Fortunately it is late in the day, so he will likely be the last patient in this exam room. You want to limit staff exposure so you complete the gathering of vital signs yourself, and you are the only individual that enters the exam room.
How would you do this visit differently at your office?
Your patient eventually improves enough that you are comfortable sending him home on an appropriate medication regimen and plan a follow-up by telemedicine visit the following day. You also review with the mom CDC recommendations for isolation and quarantine,  and you provide this pictorial education handout. You inform the family you will call them with PCR results when they become available.