As physicians, we are privileged to provide care to families from diverse populations and countries of origin. Unfortunately, our country's current immigration policies have incited fear as well as established systematic efforts to remove basic healthcare and social support for immigrant children and families that is detrimental to their health. Fifty percent of California's children have at least one immigrant parent. Many counties in our chapter have populations where one-third of the residents are immigrants. Making healthcare facilities a safe space for immigrant families as well as optimizing care is an important goal for the chapter and its members.
The AAPCA1 Immigrant Health Task Force is a coalition of physicians from community and academic institutions working together in order to create a cohesive effort at promoting immigrant health in Northern and Central California. It is housed within the Advocacy Committee and includes members from all levels of training including residents and fellows that meet on a monthly to bi-monthly basis in order to discuss and implement strategies that benefit and protect the health of immigrant children and their families.
.
Objectives
Collaboration between different institutions to create and share standardized policies and protocols for creating safe and welcoming spaces for immigrant children and their families.
Promote educational opportunities on immigrant health through speakers and free webinars provided to pediatricians.
Provide support for AAP opportunities such as CATCH grants that promote immigrant health endeavors.
Establish partnerships with local organizations also focused on promoting immigrant health that align with the mission of AAP-CA.
Work to mitigate effects of harmful policies, such as public charge regulations, by mobilizing and assisting our collaborators to provide accurate information to physicians and immigrant families.
Operationalize and expand current National AAP resources on Immigrant Health and aligning with the AAP Council on Immigrant Child and Family Health.
Focus on legislative change by advocating for policies that promote, rather than hinder, immigrant health.
Up & Coming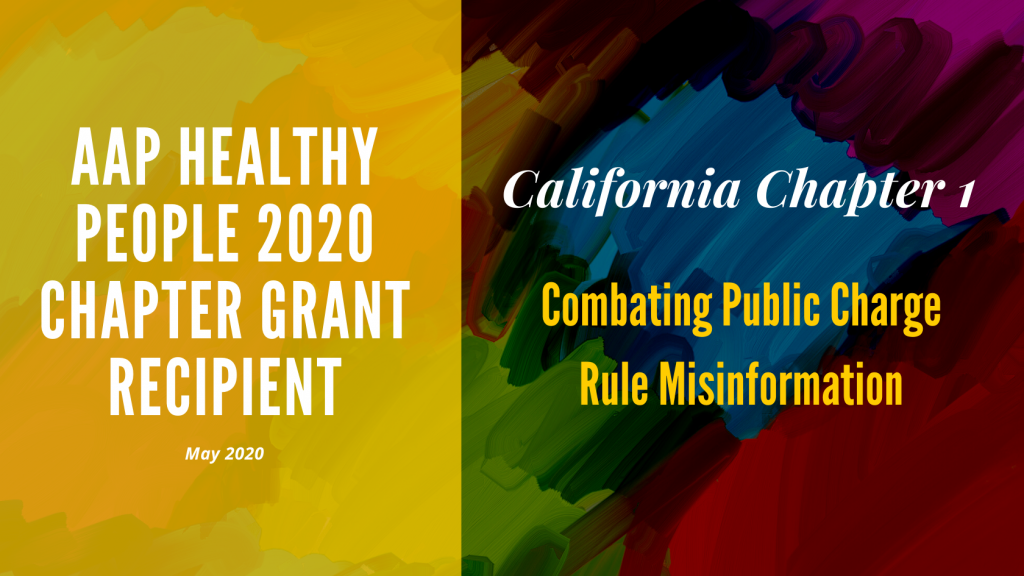 ABOUT the project "Combatting Public Charge Rule Misinformation"
The California Chapter 1 program aims to dispel misinformation about the public charge rule through a two-pronged approach that creates accurate resources with current and periodically updated information for 1) physicians and 2) immigrant families and advocates. The first set of resources will target providers and immigrant family interactions to ensure that patients and families are receiving accurate information in healthcare settings. The second set of resources will focus more broadly on community members and will span multiple different media to reach a larger population.
The goal of the first set of resources is to empower healthcare providers to deliver accurate information on the public charge rule and refer families to appropriate resources when applicable. Physician educational materials will be created on the public charge rule including modules, presentations, and handouts. Additionally, following the "train the trainer model," a chapter webinar will be developed through the Immigrant Health Task Force to assure wide distribution of information and materials so that staff at community hospitals, clinics and practices can acquire similar education and skills.
The second set of resources will be directed toward reaching families and advocates in the community and will be adjusted based on pre-survey data about families' primary source of public charge rule information. It is anticipated that it will be multimodal and include creation of media ads, podcasts, phone application and social media campaigns to reach multiple generations. In addition, the chapter Immigrant Health Task Force webpage will provide continued updates on the public charge rule and provide community resources. The campaign will not only focus on providing accurate information about the public charge rule to multiple stakeholders, but will also educate families on the best legitimate sources for information in the future, including the California 1 Chapter Immigrant Health Task Force website and the website's of other community partners. This will all be contained in one app that provides continuous guidance for medical providers and advocates and instant navigation for families. The chapter will have access to attorney advisors who will be able to offer legal advice to families about the public charge rule's impact on their specific situation.
The grant program will disseminate accurate information to address fears related to misinformation about the public charge rule which often dissuades immigrants from using available healthcare resources. Through the use of different media that will be consistently updated, easily accessible, and reliable, this project takes an innovative approach to reaching families by tapping into their daily lives while other interventions have focused on providing information to families through only one modality (eg, healthcare) or through static singular handouts or events. With the planned two-pronged approach, physicians will also be able to strengthen their knowledge base so that they can more effectively offer patients accurate advice and resources, serving as another point of contact.
Interested in getting involved?