There are many heroes in our world! We recognize the excellent work of our chapter members.
In the News
Power of Voice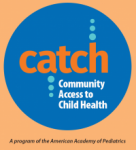 Special Achievement Awards
2022
Gena Lewis, MD, FAAP - For an ongoing dedication and service to our chapter in various roles, including as President, and for ongoing commitment to addressing social health and early childhood wellness through our ASHEW Quality Improvement project.
Morgan Leighton MD, MPH, FAAP - For engaging with high school students directly to explore and transform their perception of the COVID-19 vaccine, she created messaging addressing COVID vaccine misinformation and elevated our chapter's social media and marketing.
Janice Kim, MD, MPH, FAAP - For reinvigorating and transforming our chapter social media and communications, and broadening our engagement with chapter members and our followers. She brought new meaning to the role of Communication Director.
2021
Dayna Long, MD, FAAP - For being an outstanding and inspirational teacher and leader in community health and equity. We especially honor her leadership as our subject matter expert for our ASHEW grant.
Jacques-Emmanuel Corriveau, MD, FAAP - For chair of the AAP California State Government Advocacy (SGA) Committee. He is an outstanding advocate for children. He deserves special thanks for leadership during difficult challenges this past year.
Renee Wachtel, MD, FAAP - For
 impressively leading the writing and winning of grants for the chapter this year and for helping to lead many projects. We greatly appreciate her numerous skills and amazing contributions.
2020
Lena Rothstein, DO - For demonstrating impressive leadership by developing an advocacy training curriculum focused on media for residents at UC Davis. She is also an outstanding Section on Pediatric Trainees (SOPT) representative.
Aaron Nayfack, MD, MPH, FAAP - For co-chairing our Advocacy Committee for years, served on our State Government Affairs (SGA) committee, and continues to be an amazing advocate for children and inspirational for pediatricians as an elected official.
Jolie Limon, MD, FAAP - For being a phenomenal leader and advocate for children, particularly children in the Central Valley. We applaud her service and her leadership in bringing our Mental Health Day to Madera.
2019
Rhea Boyd, MD, MPH, FAAP - For passion and persistence in advocating for equity and inclusion both within the chapter as well as nationally; and for leadership and insight in developing and facilitating practical workshops and discussions to address diversity and inclusion in organizations.
Diane Dooley, MD, FAAP - For charismatic leadership for the Mental Health Access Ad Hoc Committee in addressing the current barriers that pediatricians face when referring children and youth for behavioral and mental health services.
J. Raul Gutierrez, MD, FAAP - For advocating on behalf of immigrant children and communities, for leadership in creating a conference on immigrant health and forming collaborative relationships with community partners to protect our children and families and to empower all of us to become more engaged advocates.
2018
Renee C. Wachtel, MD, FAAP - For spirited leadership of the Developmental Behavioral Pediatrics Committee and fervent advocacy on behalf of children with autism.
Mika Hiramatsu, MD, FAAP - For inspirational leadership of the Medical Education Committee (and tireless and detailed editing of chapter newsletters before publication).
Jolie Limon, MD, FAAP - For unparalleled leadership, exquisite teaching and thoughtful mentoring at Valley Children's Hospital in Fresno, California.
2017
Eileen Aicardi, MD, FAAP - For creating and implementing our first budget process to ensure financial responsibility for our chapter.
Aaron Nayfack, MD, MPH, FAAP - For steadfast advocacy for children and families in his role as Advocacy Co-chair and member of the SGA.
Mark Simonian, MD, FAAP - For 22 years of service on the Board, as webmaster, creator of our database system, and all-around technical skills.