The status of Coronavirus Disease 2019 (COVID-19) in the U.S. continues to evolve; the CDC issued a Health Alert Network on February 28, 2020 with recommendations on identifying people at risk for COVID-19 and preventing transmission. Clinical features of COVID-19 are nonspecific, fever and respiratory illness (e.g., cough or shortness of breath), and easily overlap those of more common viral illnesses such as influenza. Current recommendations are for everyone to practice good hand washing; and for health care facilities to ask patients with symptoms about travel history and exposure to any person with laboratory-confirmed COVID-19, and to collaborate on screening practices with local health departments.
.
AAP-CA Statement in SUPPORT OF LOCAL HEALTH OFFICERS 

(6/17/2020)



AAP-CA Statement on REOPENING IN-PERSON EDUCATION IN CALIFORNIA SCHOOLS: 
COVID19 PLANNING CONSIDERATIONS (6/4/2020)
HEADLINE RESOURCES:
AAPCA1 implemented a project to ensure high confidence in the COVID-19 vaccine among high schoolers and families. View the resources developed as part of this initiative:
.
.

.
Chapter Chats:
Chapter Chat on School Reopening in the Age of COVID – 3/23/21
Solution Share Chapter Member Chat
All of the recorded chats will be posted below and resources linked to the Resources Updates section below.

.
RESOURCE UPDATES (as of 6.24.2021)
We encourage you to monitor the latest information and key messages being shared by the CDC, AAP and local health departments:
The AAP has joined the U.S. Department of Health and Human Services, the Centers for Disease Control and Prevention, and 14 other medical organizations to issue a statement in support of COVID-19 vaccines, in light of the data presented regarding myocarditis.
Addressing Local Needs & Questions:
For Families:
#AskThePediatrician Facebook Live on School Re-entry:  To help parents stay up to date with news and recommendations for children's health and parenting during COVID-19, Healthy Children hosts an #AskThePediatrician Facebook Live chat every Wednesday at 12:00 pm CT
For Pediatricians (as of 4/29/21):
UPDATE: 03.16.2020
Things are changing every day. Please visit National AAP's Critical Updates for the most up-to-date clinical guidance, coding information, information on PPE, telemedicine and telephone care resources and more. For further questions, please email COVID-19@aap.org.
UPDATE: 03.06.2020
What should I expect to see in my office/clinic if COVID-19 becomes widespread in my community? What do I need to do to prepare? What is the best PPE to have/use? Why aren't kids getting sick? We have answers to these questions and more from our Chapter Immunization Champion Dr. Dean Blumberg and District IX Resident Represenative Dr. Lena van der List.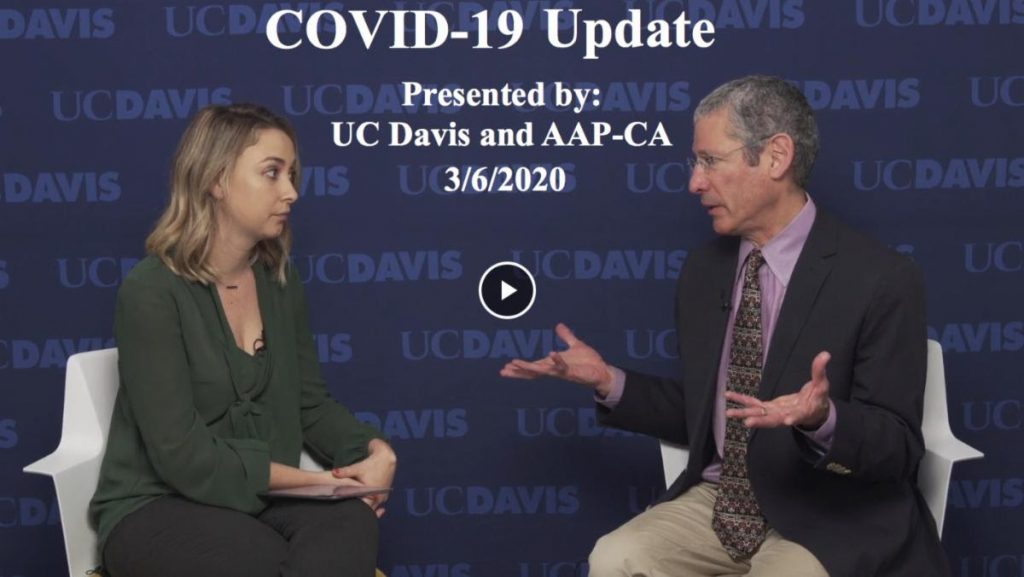 —
Here is a list of resources for you from the CDC, AAP, CDPH, all 48 county public health departments of our chapter and resources for children, youth and families. Please see below links to useful websites and resources:
US Centers for Disease Control and Prevention
American Academy of Pediatrics
California Department of Public Health
https://www.cdph.ca.gov/Programs/CID/DCDC/Pages/Immunization/nCOV2019.aspx
For Children, Youth and Families
County Public Health Departments (listed by regions of our chapter)
North Valley (Region 1)
Butte County: http://www.buttecounty.net/ph/
Glenn County: https://www.countyofglenn.net/dept/health-human-services/public-health/welcome
Lassen County: https://www.publichealthdepartments.us/details/lassen_county_public_health_department.html
Modoc County: https://modochealthservices.org/
Plumas County: https://www.plumascounty.us/91/Public-Health-Agency
Shasta County: https://www.co.shasta.ca.us/index/hhsa/public-health
Sierra County: https://www.sierracounty.ca.gov/269/Public-Health
Siskiyou County: https://www.co.siskiyou.ca.us/publichealth
Sutter County: https://www.suttercounty.org/doc/government/depts/hs/ph/hs_public_health
Tehama County: https://www.tehamacohealthservices.net/
Trinity County: https://www.trinitycounty.org/Public-Health
Yuba County: https://www.yuba.org/departments/health_and_human_services/index.php
Sacramento Valley (Region 2)
El Dorado County: https://www.edcgov.us/Government/PublicHealth
Nevada County: https://www.mynevadacounty.com/551/Public-Health
Placer County: https://www.placer.ca.gov/2863/Public-Health
Sacramento County: https://dhs.saccounty.net/PUB/Pages/PUB-Home.aspx
Yolo County: https://www.yolocounty.org/health-human-services/adults/communicable-disease-investigation-and-control
Central Valley (Region 3)
Alpine County: https://www.alpinecountyca.gov/index.aspx?NID=201
Amador County: https://www.amadorgov.org/services/public-health
Calaveras County: https://publichealth.calaverasgov.us/
San Joaquin County: http://www.sjcphs.org/
Stanislaus County: http://www.schsa.org/PublicHealth/
Tuolumne County: https://www.tuolumnecounty.ca.gov/250/Public-Health
South Valley (Region 4)
Fresno County: https://www.co.fresno.ca.us/departments/public-health
Inyo County: https://www.inyocounty.us/services/health-human-services/public-health-and-prevention-division
Kings County: https://www.countyofkings.com/departments/health-welfare/public-health
Madera County: https://www.maderacounty.com/government/public-health
Mariposa County: https://www.mariposacounty.org/89/Public-Health
Merced County: https://www.co.merced.ca.us/82/Public-Health
Mono County: https://monohealth.com/public-health
Tulare County: https://tchhsa.org/eng/index.cfm/public-health/
San Francisco (Region 5)
San Francisco (includes Daly City) County: https://www.sfdph.org/dph/default.asp
Santa Clara (Region 6)
Santa Clara County: https://www.sccgov.org/sites/phd/Pages/phd.aspx
San Mateo (Region 7)
San Mateo County: https://www.smchealth.org/
North Coastal (Region 8)
Del Norte County: http://www.co.del-norte.ca.us/departments/health-human-services/public-health
Humboldt County: https://humboldtgov.org/330/Public-Health
Lake County: http://health.co.lake.ca.us/
Marin County: https://www.marinhhs.org/public-health
Mendocino County: https://www.mendocinocounty.org/government/health-and-human-services-agency/public-health
Napa County: https://www.countyofnapa.org/PublicHealth/
Sonoma County: https://sonomacounty.ca.gov/Health/Public-Health/
Monterey Bay Area (Region 9)
Monterey County: https://www.co.monterey.ca.us/government/departments-a-h/health/public-health
San Benito County: https://hhsa.cosb.us/publichealth/
Santa Cruz County: https://www.santacruzhealth.org/
Alameda (Region 10)
Alameda County: http://www.acphd.org/
Contra Costa and Solano (Region 11)
Contra Costa County: https://cchealth.org/public-health/
Solano County: http://www.solanocounty.com/depts/ph/default.asp
MORE:
National Institutes of Health
https://www.nih.gov/health-information/coronavirus
National Library of Medicine
https://www.nlm.nih.gov/index.html#Novel_Coronavirus
Johns Hopkins Center for Systems Science and Engineering
Map Tracks Coronavirus Outbreak in Near Real Time
The Lancet
https://www.thelancet.com/coronavirus
The New England Journal of Medicine
https://www.nejm.org/coronavirus
World Health Organization
Interim Clinical Guidance: https://www.who.int/publications-detail/clinical-management-of-severe-acute-respiratory-infection-when-novel-coronavirus-(ncov)-infection-is-suspected
European Centre for Disease Prevention and Control (great graphics!)
https://www.ecdc.europa.eu/en/geographical-distribution-2019-ncov-cases