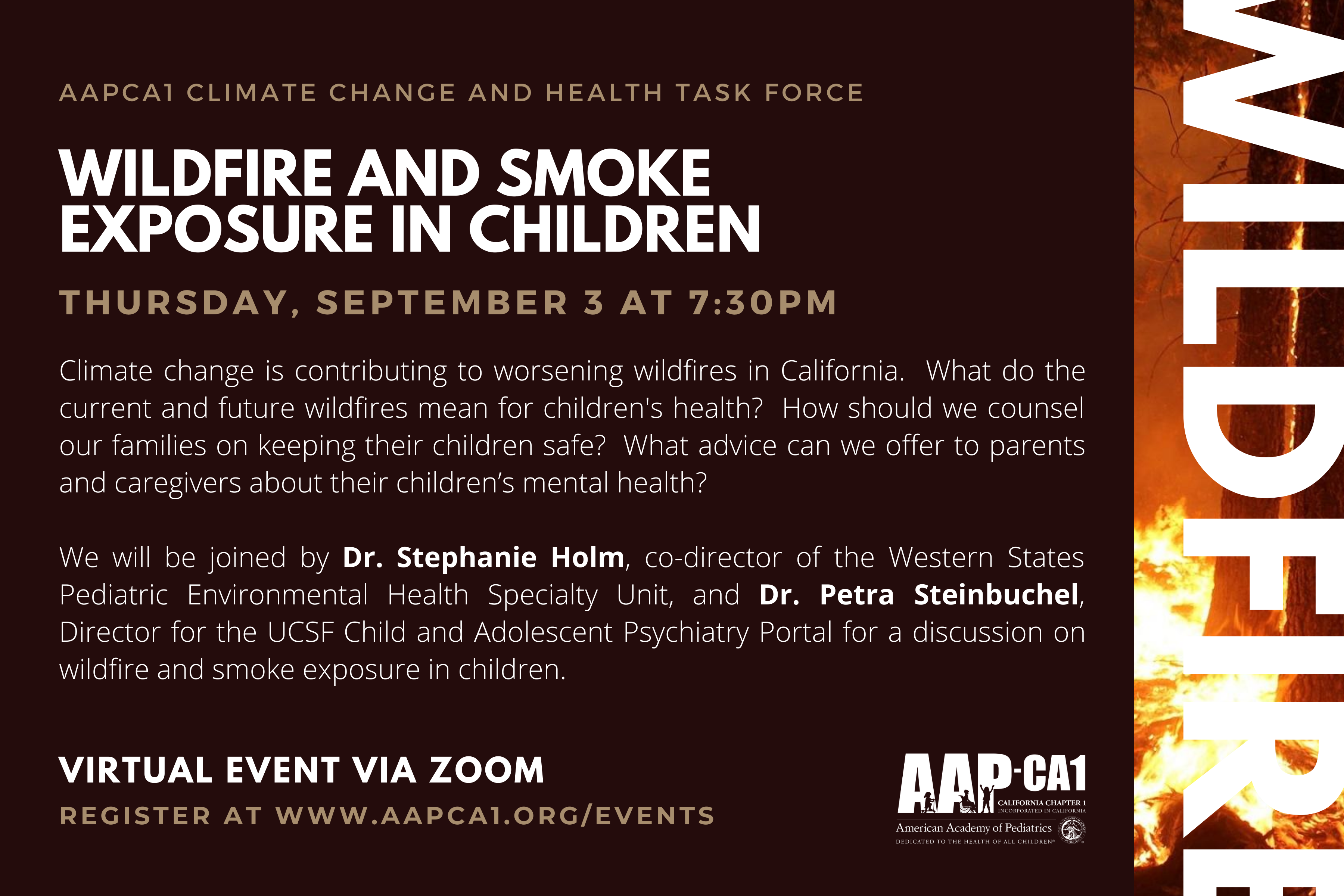 Wildfire and Smoke Exposure in Children
Thursday, September 3, 2020
7:30 pm
Climate Change and Health Task Force Webinar
Climate change is contributing to worsening wildfires in California.  What do the current and future wildfires mean for children's health?  How should we counsel our families on keeping their children safe? What advice can we offer to parents and caregivers about their children's mental health?
Please join us for an urgent AAPCA1 Climate and Health Task Force Webinar on wildfire and smoke exposure in children on Thursday, September 3rd at 7:30 pm. We will be joined by Dr. Stephanie Holm, co-director of the Western States Pediatric Environmental Health Specialty Unit, and Dr. Petra Steinbuchel, Director for the UCSF Child and Adolescent Psychiatry Portal.
.
Meet Our Speakers
Stephanie Holm, MD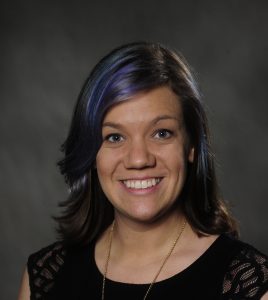 Dr. Holm is Co-Director of the Western States PEHSU. Dr. Holm received her medical degree in 2011 from the University of Pittsburgh. She is board certified in both pediatrics and occupational/environmental medicine (trained at Children's Hospital and Research Center Oakland and University of California San Francisco, respectively). She also completed a year of pediatric pulmonary training at Oakland before leaving to further pursue her interests in pediatric research and pediatric environmental medicine. She was the PI on THE AQUA study, a dual cohort study of asthmatic children with and without cigarette exposure, which measured particulate matter levels in children's home environments in order to correlate these with features and behaviors of the household and its occupants. As part of her work with the Region 9 PEHSU, she reviewed literature relevant to disinfectant use and toxicities in early care and education environments. Dr. Holm completed an MPH in epidemiology at UC Berkeley in 2017 and is currently pursuing a PhD in epidemiology while continuing her research activities.
Petra Steinbuchel, MD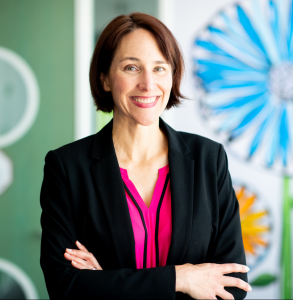 Dr. Petra Steinbuchel has served as a child and adolescent psychiatrist at UCSF Benioff Children's Hospital Oakland for over a decade.  She is the Director for the UCSF Child and Adolescent Psychiatry Portal, a consultative child psychiatry access program designed to further integrate medical and behavioral health care for children.
She has a deep passion for expanding access to care for diverse and vulnerable populations, in particular those exposed to early childhood adversity, chronic and acute medical trauma.  She has been dedicated to developing effective, collaborative partnerships between behavioral health and pediatric primary care providers in medical inpatient, outpatient, school-based and integrated care settings.
She is a champion for physician wellness and serves on the UCSF Benioff Children's Hospital Oakland Wellbeing Committee and Schwarz Rounds Committee.  She has received recognition and mentoring awards for her educational roles with pediatric residents and child and adolescent psychiatry fellows.
Dr. Steinbuchel received her BA in English and German from the College of William and Mary.  She completed her medical degree and internship in pediatrics at the Medical College of Georgia.  She completed her psychiatry residency at California Pacific Medical Center, her child and adolescent psychiatry fellowship at Massachusetts General Hospital, and was subsequently a Harvard Macy Institute Scholar.
Register