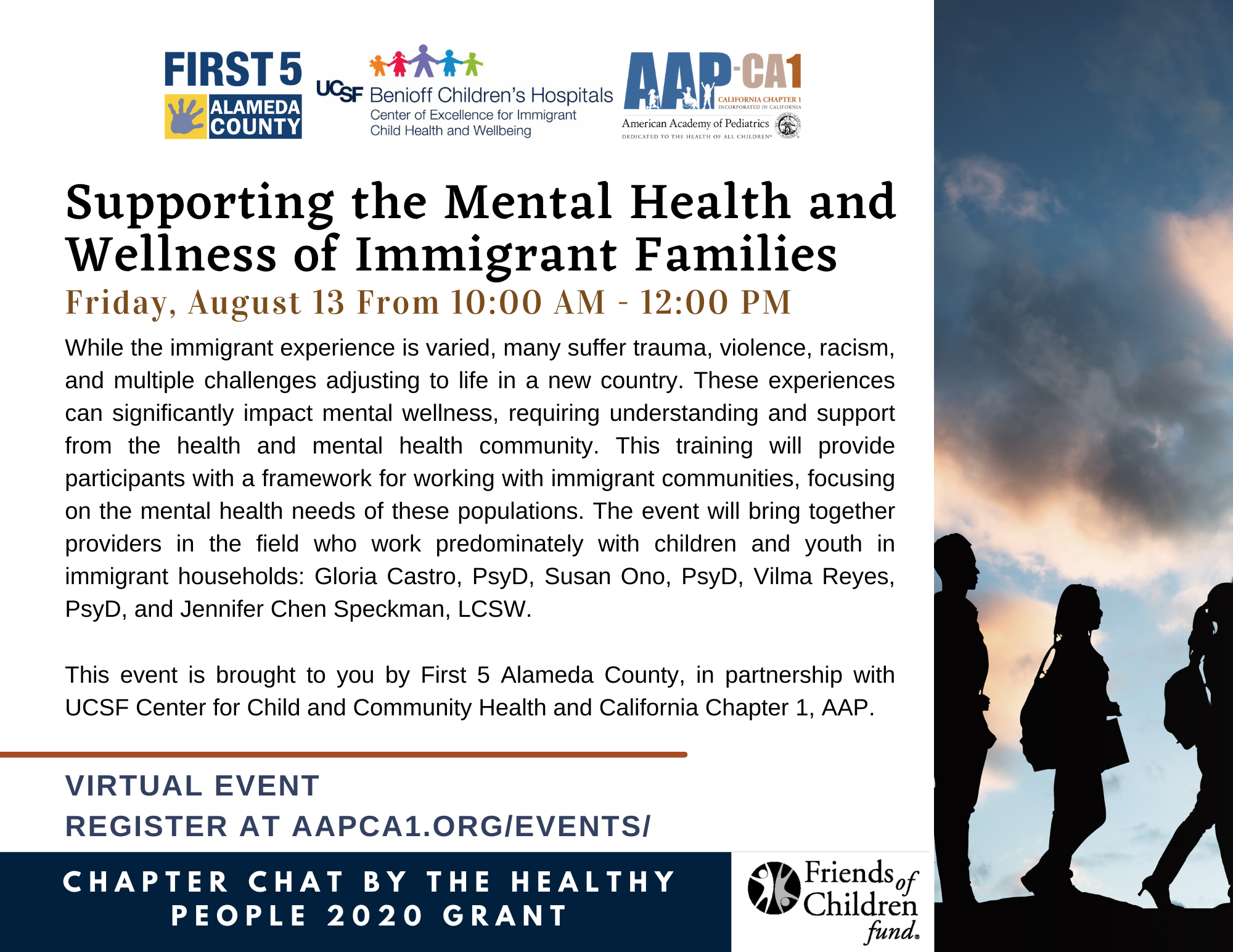 Supporting the Mental Health and Wellness of Immigrant Families
Friday, August 13, 2021
10:00 am - 12:00 pm
While the immigrant experience is varied, many suffer trauma, violence, racism, and multiple challenges adjusting to life in a new country. These experiences can significantly impact mental wellness, requiring understanding and support from the health and mental health community. This training will provide participants with a framework for working with immigrant communities, focusing on the mental health needs of these populations. The event will bring together providers in the field who work predominately with children and youth in immigrant households.
This event is brought to you by First 5 Alameda County, in partnership with UCSF Center for Child and Community Health and California Chapter 1, AAP.
(Note: You will need to create a First 5 Alameda account)
. 
LEARNING OBJECTIVES
Participants will be able to:
+Describe a framework for working with immigrant communities
+List some common mental health challenges experienced by immigrant communities
+List at least 2 resources that work with and support immigrant communities
SPEAKERS
Gloria Castro, PsyD
UCSF Child Trauma Research Program and
Zuckerberg San Francisco General Hospital, Dept. of Psychiatry and Behavioral Science
Susan Ono, PsyD
MindfulSF
Vilma Reyes, PsyD
Assistant Clinical Professor, Director of Training, Associate Dir. of Community Programs,
UCSF Child Trauma Research Program
Jennifer Chen Speckman, LCSW
Sole proprietor, private practice
MODERATORS
Griselda Marie Chavez
Infant Development Specialist, Early Intervention Services,
UCSF Benioff Children's Hospital Oakland
Diana Garcia
Data and Policy Analyst,
First 5 Alameda County
WHO SHOULD ATTEND
Providers working with immigrants and immigrant families.
2.0 CEUs available for LMFTs, LCSWs, LPCCs, LEPs, and RNs.
AGENDA
10:00am Welcome and Introductions
10:15am Panelist Presentations
11:15am Q&A
11:45am Closing Remarks and Acknowledgements
12:00pm Adjourn
Register by August 12, Midnight
To register, click the "Register" button or copy and paste this link into your browser: 
https://sforce.co/2UTX12E
(Note: You will need to create a First 5 Alameda account)
REGISTER