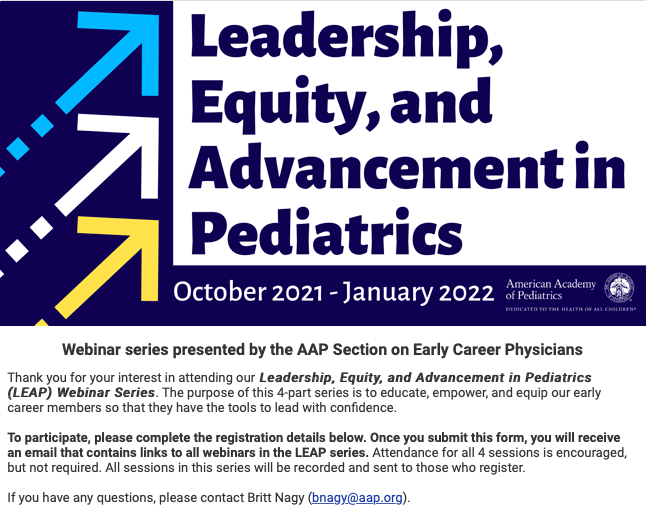 SOECP: Leadership, Equity, and Advancements in Pediatrics
October 20, 2021 - January 20, 2022
7:00 pm - 8:00 pm
Webinar series presented by the AAP Section on Early Career Physicians.
Once the form is complete, you will receive an email that contains links to all of the webinars.
.
Work-Life Integration
Wednesday, October 20, 2021
7 – 8PM Central Time
About: Discover ways others have managed their roles in times of crisis and created space for their needs as employees, friends, and family members.
Speakers:
Jillian Bybee, MD, FAAP
Ilan Shapiro, MD, FAAP
Corey Stiver, MD, FAAP
.
Find Your Win-Win: Negotiation Essentials for Your Employment Contract
Thursday, November 4, 2021
7 – 8PM Central Time
About: Find out how to make your contract work for you – getting protected time, adding non-salary benefits, and understanding non-compete clauses.
Speakers:
Suzanne Berman, MD, FAAP
Therese Canares, MD, MBA, FAAP
Sarah Hinton, MD, FAAP
.
Navigating an Environment that is Structurally Discriminatory
Thursday, December 2, 2021
7 – 8PM Central Time
About: Learn about how to advocate for yourself in a workplace that is structurally racist, misogynist, or discriminatory, intervening when you observe a negative interaction, finding or establishing reporting procedures, and supporting colleagues and patients as an ally.
Speakers:
Katherine Duncan, MD, MSPH, FAAP
Jo-Ann Nesiama, MD, MS, FAAP
Ashley Newell, MD, FAAP
.
Graceful Self-Promotion
Thursday, January 20, 2022
7 – 8PM Central Time
About: Gain insight on honing your professional brand, speaking with self-assurance, and communicating to inspire.
Speakers:
Nola Ernest, MD, PhD, FAAP
Joseph May, MD, MPH, FAAP
Caitlyn Mooney, MD, FAAP
Aaron Nelson, MD, MBS, FAAP