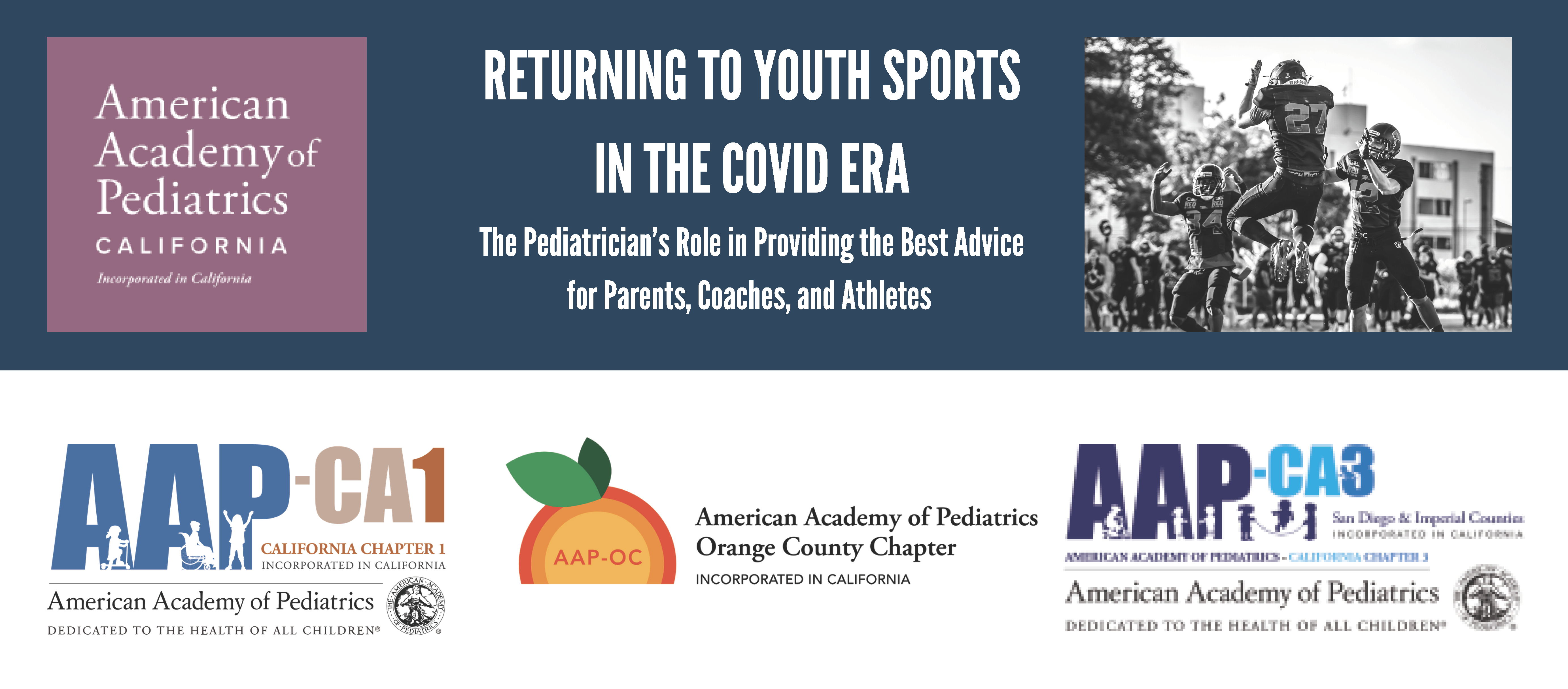 Returning to Youth Sports in the COVID Era
Thursday, April 8, 2021
6:30 pm - 8:00 pm
.
American Academy of Pediatrics California presents a free webinar for pediatricians on returning to youth sports in the COVID era. We'll be joined by Drs. Lisa Arcilla, Chris Koutures, Adrienne Lostetter, and Jordan De. Metzl for a discussion on the pediatrician's role in providing the best advice for parents, coaches, and athletes.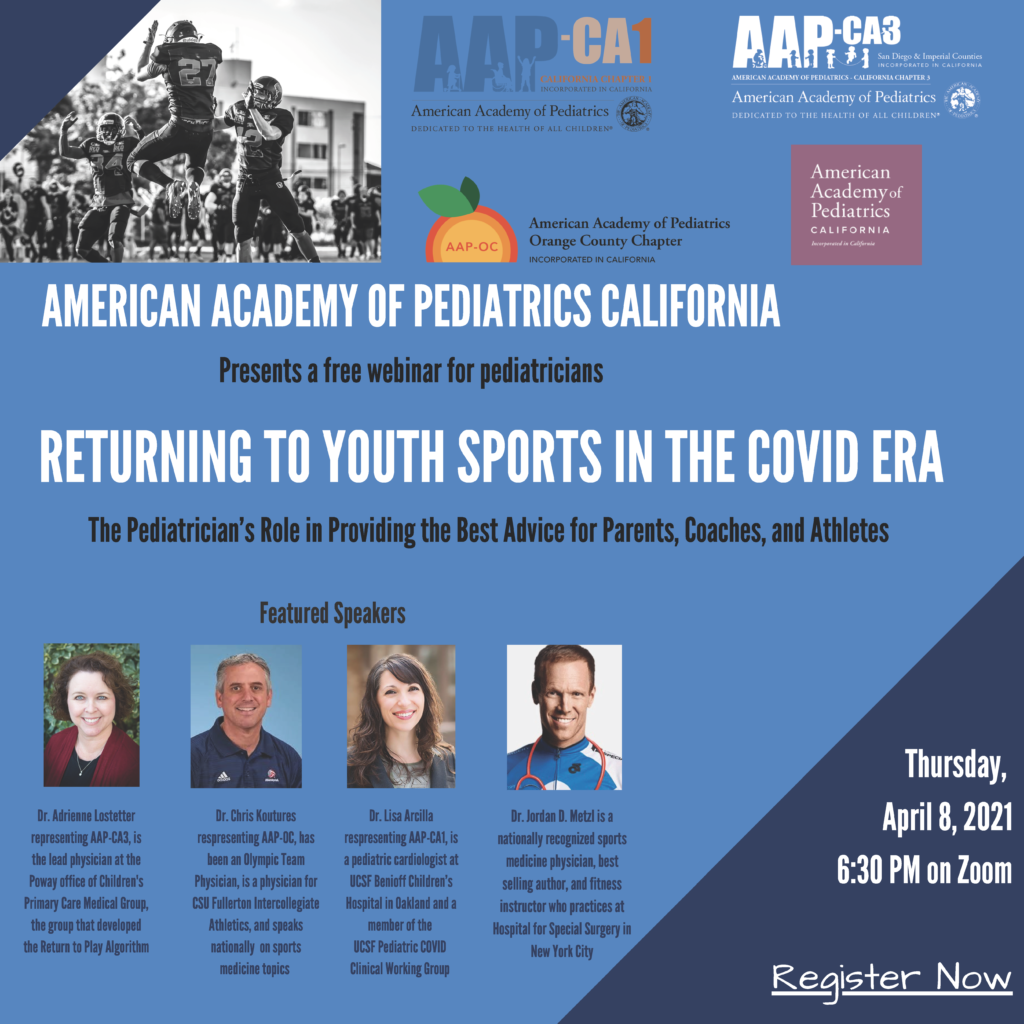 .
Featured Speakers
Dr. Jordan D. Metzl is a nationally recognized sports medicine physician, best selling author, and fitnessinstructor who practices at Hospital for Special Surgery in New York City. With a practice of more than20,000 patients, Dr. Metzl is widely known for his passion for sports medicine and fitness. He completedhis residency training at Tufts Medical Center in Boston and Sports Medicine Fellowship Trainingprograms at both Vanderbilt University and at Harvard Medical School. In addition to his busy medicalpractices in New York City and Stamford, Connecticut, Dr. Metzl is the author of the bestselling titlesRunning Strong, The Exercise Cure, and Athlete's Book of Home Remedies, and has also authored threeother books including The Young Athlete. Dr. Metzl is the medical columnist for Triathlete Magazine.
Dr. Adrienne Lostetter representing AAP-CA3, is the lead physician at the Poway office of Children'sPrimary Care Medical Group, the San Diego medical group that developed the Return to Play Algorithm. A pediatrician since 1997, she completed medical school at Texas Tech University and her residency atThe University of Texas Health Science Center at San Antonio. Dr. Lostetter practiced all over theUnited States while her husband served in the United States Air Force. As a pediatrician, she enjoyswatching children grow and develop, teaching kids how to have healthy eating habits and embrace anactive lifestyle. She also created a sports physical program within CPCMG for student athletes tostandardize participation clearance with the most current guidance from sports medicine experts.
Dr. Chris Koutures is the team physician for the U.S. Men's and Women's National Volleyball Teams, Cal StateFullerton Intercollegiate Athletics, Chapman University Dance Department, and the American Ballet TheaterGillespie School of Dance. He is also a mentor for pediatric residents and medical and athletic trainingstudents, and speaks at local, regional and national conferences on sports medicine topics. He earned his B.S.in Kinesiology at UCLA and his medical degree from the University of Wisconsin School of Medicine. Afterreturning to California, Dr. Koutures completed a one-year sports medicine fellowship with UC San Diego. In2008, Dr. Koutures fulfilled a lifetime dream by serving as the Medical Team Physician for USA Volleyball andTable Tennis in the 2008 Beijing Summer Olympics.
Dr. Lisa Arcilla is a pediatric cardiologist at UCSF Benioff Children's Hospital in Oakland where she haspracticed since 2015. Originally from Minnesota, Dr. Arcilla attended medical school at the University ofMinnesota and subsequently completed her pediatric residency and pediatric cardiology fellowship at UCLA.She is a member of the UCSF Pediatric COVID Clinical Working Group and contributed to their managementalgorithms for COVID and MIS-C. As a fellow of the American College of Cardiology and a member of theAmerican College of Lifestyle Medicine, Dr. Arcilla emphasizes the importance of safely engaging in athleticparticipation as a crucial component of cardiovascular health for her patients.
.
REGISTER