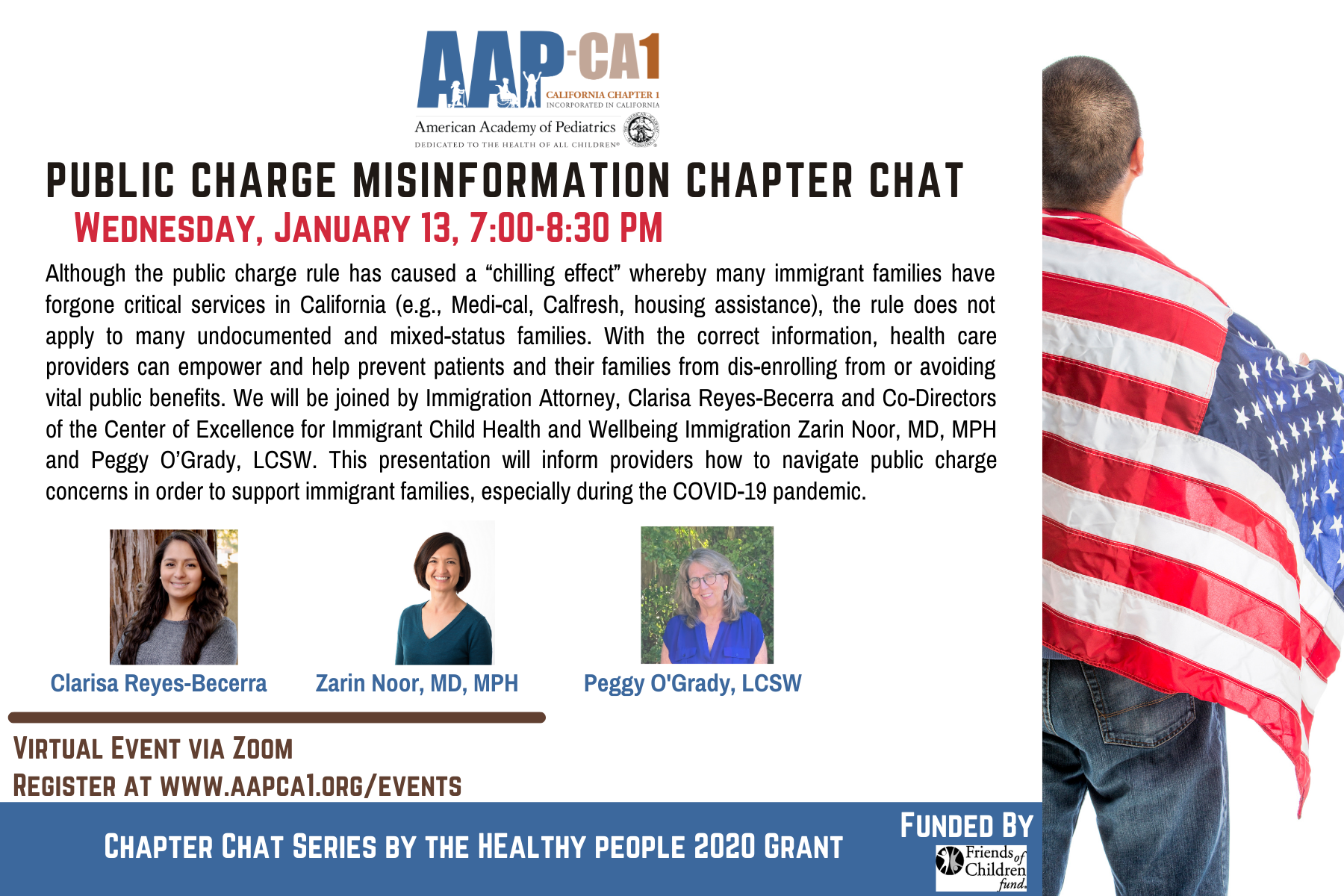 Healthy People 2020 Chat Series: Public Charge Misinformation
Wednesday, January 13, 2021
7:00 pm - 8:30 pm
7:00-8:30PM
Although the public charge rule has caused a "chilling effect" whereby many immigrant families have forgone critical services in California (e.g., Medi-cal, Calfresh, housing assistance), the rule does not apply to many undocumented and mixed-status families. With the correct information, health care providers can empower and help prevent patients and their families from dis-enrolling from or avoiding vital public benefits. Join us for our first segment of this three-part series regarding Public Charge Misinformation. This presentation will inform providers how to navigate public charge concerns in order to support immigrant families, especially during the COVID-19 pandemic.
Meet Our Panelists:
Speaker: Clarisa Reyes-Becerra, Esq. Immigration Attorney
Equal Justice Works Fellow, sponsored by Amgen Inc. and Munger, Tolles & Olson LLP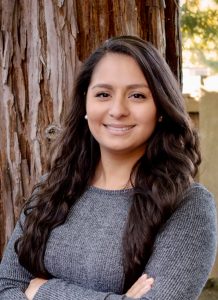 Clarisa Reyes-Becerra is an immigration attorney and Equal Justice Works Fellow with the California Rural Legal Assistance Foundation (CRLAF). She focuses on how immigration status affects the ability of immigrants to access health care and public benefits, and seeks to enforce federal and state rights to access health care for immigrant communities. She has been at the forefront of CRLAF's public charge outreach efforts, informing and advising families on how public charge may affect their potential for immigration relief. Clarisa received her J.D. from Columbia Law School and B.A. from Stanford University.
Zarin Noor, MD, MPH
Co- Director of Center of Excellence for Immigrant Child Health and Wellbeing

Dr. Zarin Noor is a pediatrician at UCSF Benioff Children's Hospital Oakland Primary Care clinic. She is the Director of International Clinic within the Primary Care clinic, which focuses on the medical care of immigrant and refugee pediatric patients. She teaches and mentors residents and medical students. Dr. Noor has a US Civil Surgeon designation and provides medical exams for immigration purposes. Dr. Noor is on the steering committee for the new UCSF Health and Human Rights Initiative. She completed her Masters degree in Public Health at Johns Hopkins Bloomberg School of Public Health with a focus on International Health and Humanitarian Health. She received her medical degree from Drexel University College of Medicine and completed her pediatric residency at Children's Hospital Oakland.
Peggy O'Grady, LCSW
Co- Director of Center of Excellence for Immigrant Child Health and Wellbeing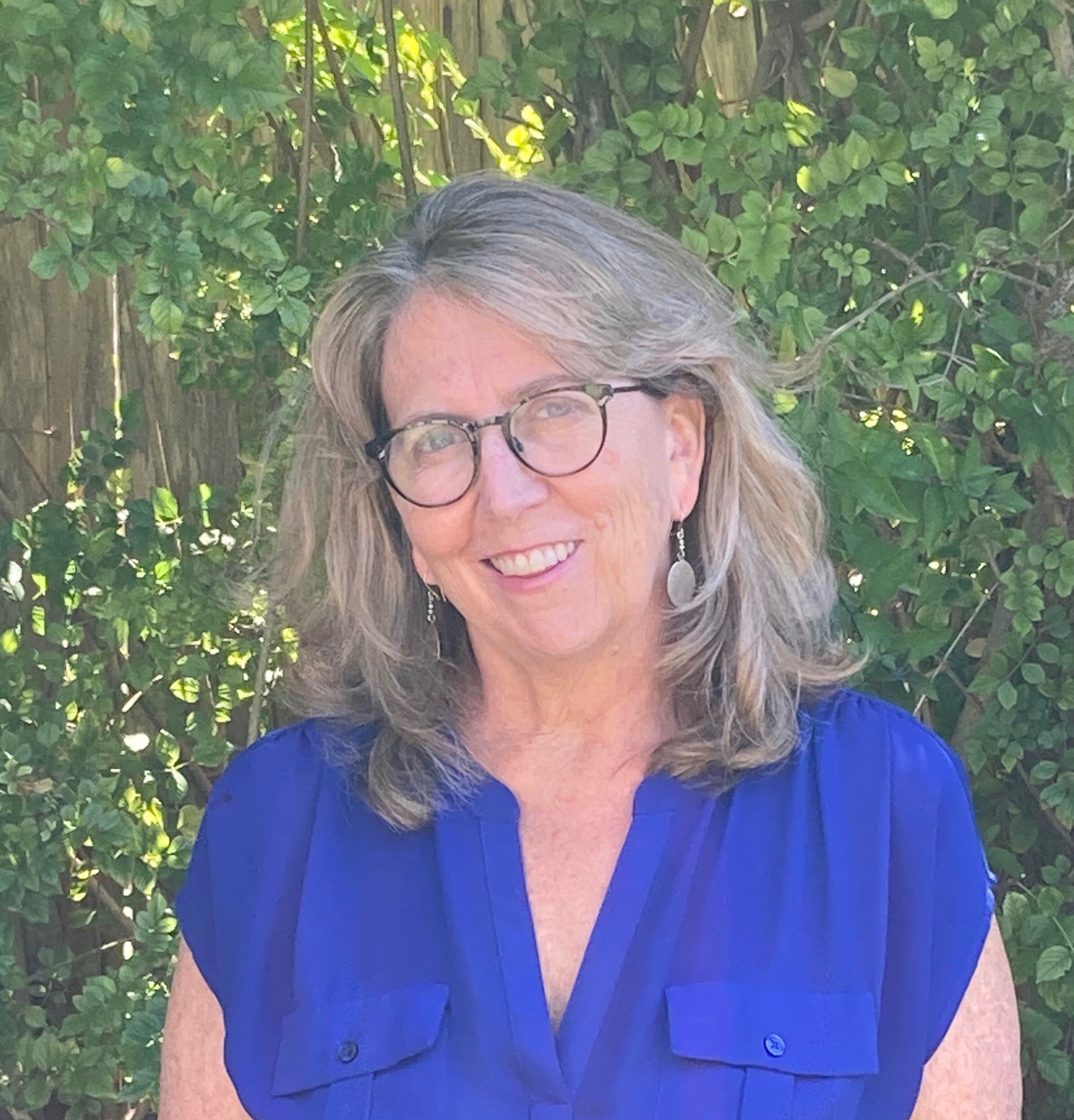 Peggy O'Grady is a Licensed Clinical Social Worker with over 30 years of experience working with children and families in community non-profits as well as medical social work.  She has been a social worker at UCSF Benioff Children's Hospital San Francisco for 15 years in oncology and most recently at the Pediatric Brain Center.  In former work for more than ten years, she served as a social worker and Director at Catholic Charities' Immigration Program, and as a social worker and organizer at the Central American Refugee Organizing Project, supporting the direct service and advocacy work of the local refugee community as well as the development of Sanctuary congregations throughout the SF Bay Area.  Along with other social workers, she continues to work to educate staff at BCH on immigrant rights and advocate for safer hospital spaces.
Register