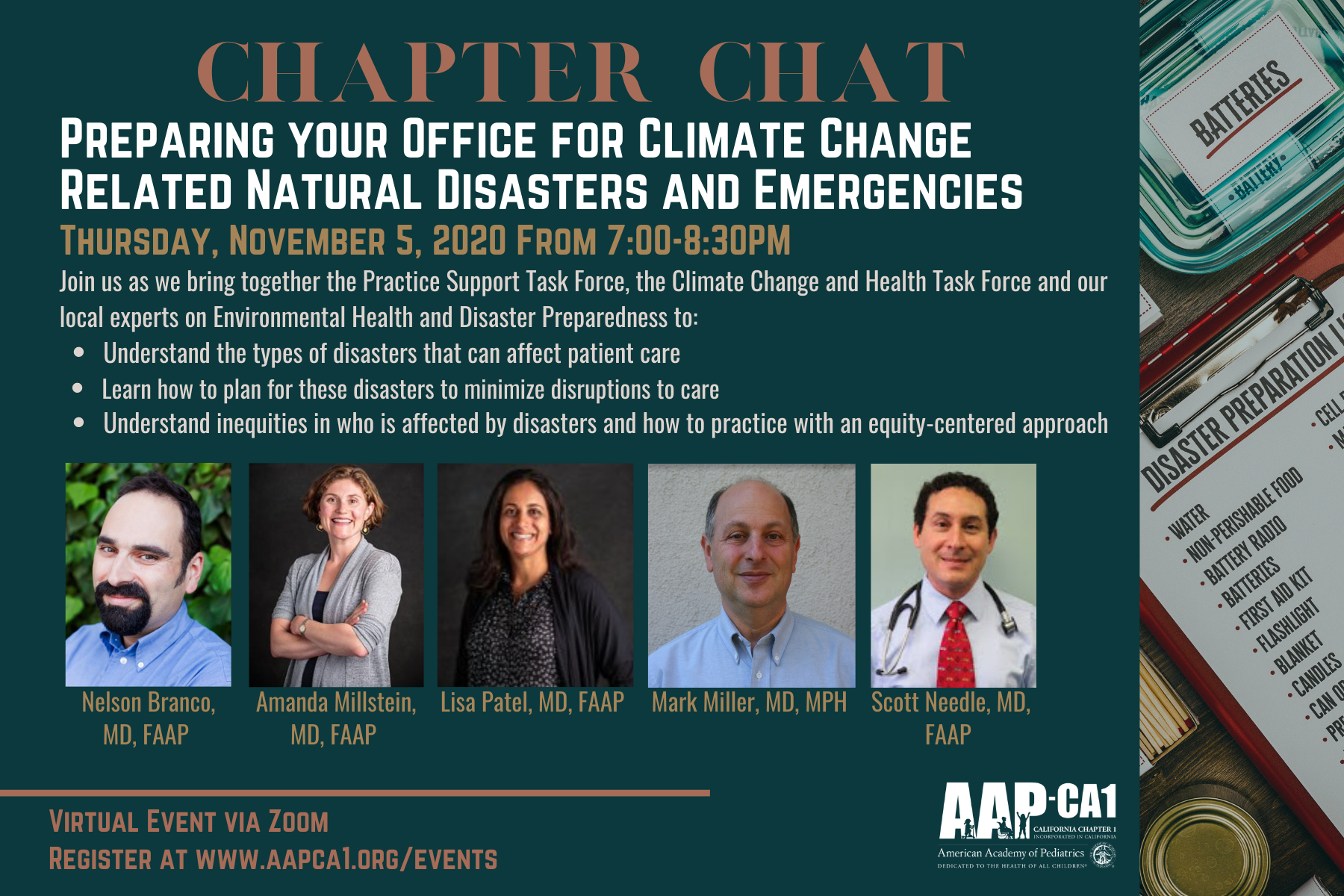 Preparing Your Office for Climate Change Related Natural Disasters and Emergencies
Thursday, November 5, 2020
7:00 pm - 8:30 pm
Join us as we bring together the Practice Support Task Force (Dr. Nelson Branco), the Climate Change and Health Task Force (Drs. Lisa Patel, Amanda Millstein) and our local experts on Environmental Health, Dr. Mark Miller, and Disaster Preparedness, Dr. Scott Needle, to:
Understand the types of disasters that can affect patient care

Learn how to plan for these disasters to minimize disruptions to care

Understand inequities in who is affected by disasters and how to practice with an equity-centered approach
.
Meet Our Panelists:
Amanda Millstein, MD, FAAP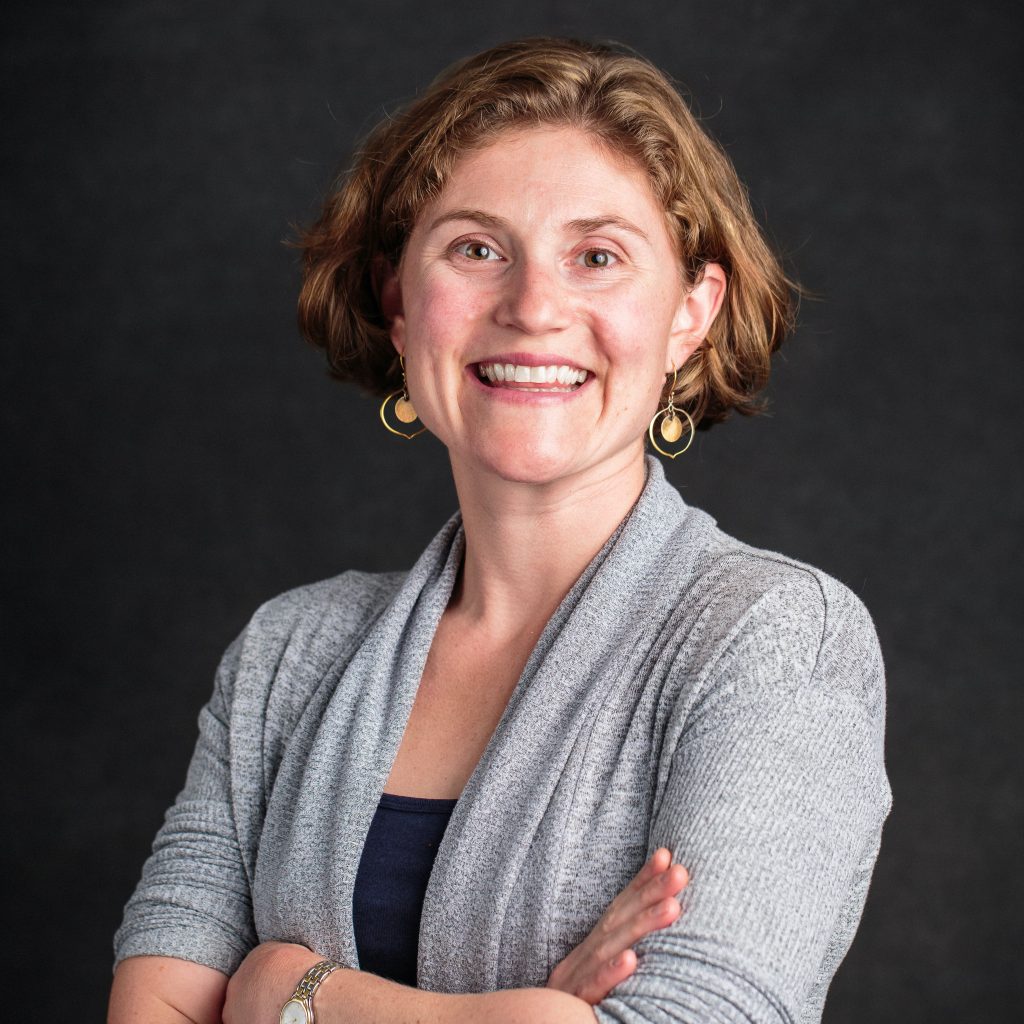 Amanda Millstein, MD is a primary care pediatrician at UBCP Hilltop Pediatrics in Richmond. She is a co-founder of Climate Health Now as well as co-chair of the AAP-CA1 Task Force on Climate Change and Child Health. She is passionate about organizing and activating the trusted health voices of medical providers to speak about the climate health crisis. Dr. Millstein earned her medical degree at Stanford University and completed residency at UCSF.
Mark Miller, MD, MPH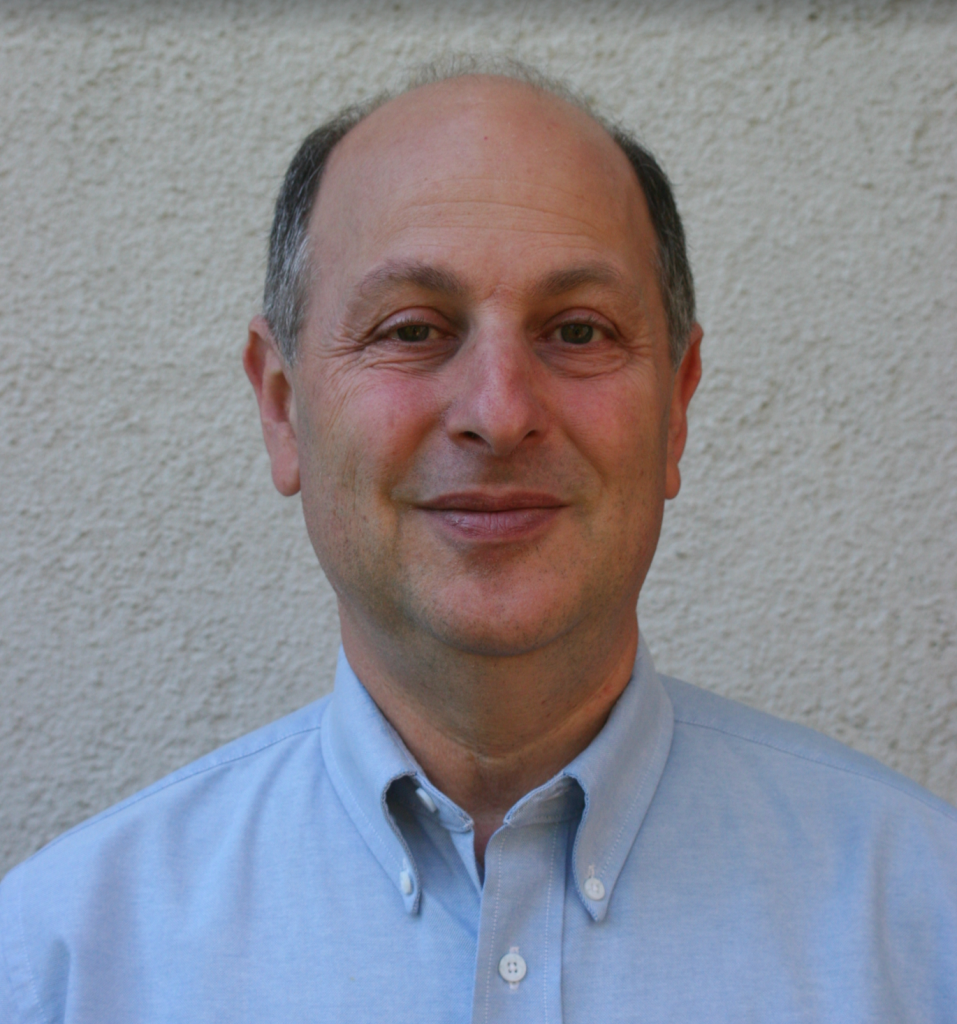 Dr. Mark Miller is an Assistant Clinical Professor of Pediatrics and Medicine at the University of California San Francisco and co-director of the Western States Pediatric Environmental Health Specialty Unit (PEHSU) at UCSF since 2002. He is also the director of the Children's Environmental Health Center at the California EPA Office of Environmental Health Hazard Assessment. He completed his MD degree and pediatric residency from Michigan State University College of Human Medicine, an MPH in environmental health sciences at U.C. Berkeley, as well as a residency in preventive medicine with the California Department of Health Services. Dr. Miller spent 13 years as a pediatrician in private practice in Chico, California. He is the immediate past-president of the International Society for Children's Health and the Environment (ISCHE) and is a member of the Children's Health Protection Advisory Committee of the United States Environmental Protection Agency. He is a past member of the American Academy of Pediatrics National Committee on Environmental Health. Dr. Miller is a primary author of the award-winning Story of Health multi-media eBook used by 14,000 health professionals to receive CE credits.
Scott Needle, MD, FAAP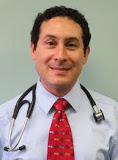 Scott Needle, MD, FAAP, is a primary care pediatrician and Chief Medical Officer for Elica Health Centers in Sacramento, CA. Dr Needle's experience evacuating from the gulf coast during Hurricane Katrina led to his interest in contributing to the field of disaster management. Dr Needle is a member of the Executive Committee of the American Academy of Pediatrics' Council on Children and Disasters, and he is the former chairperson of the federal National Advisory Committee on Children and Disasters. His work has included helping the AAP and CDC respond to emergencies (including hurricanes, wildfires, H1N1, anthrax, plague, Zika, and now COVID-19). He has also written and contributed to several AAP policy statements and other written publications and products.
Nelson Branco, MD, FAAP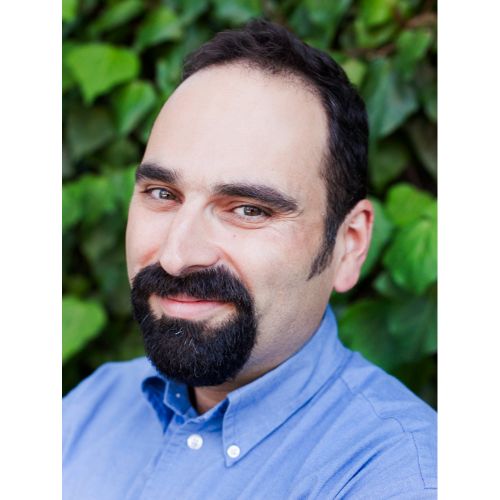 Dr. Branco is originally from Massachusetts and received his undergraduate degree in psychology from Boston University, followed by an MD at the Boston University School of Medicine. He completed his pediatric residency at Children's Hospital Oakland. After finishing his residency, he and his wife Nell moved to Shiprock, NM and worked for the Indian Health Service on the Navajo Nation for three years. After returning to California in 2001, he practiced at the Marin Community Clinics and also worked for the Pediatric After Hours Clinic and at Marin General Hospital as a Pediatric Hospitalist. In 2005, Dr. Branco joined Tamalpais Pediatrics and became the managing partner in 2006. He is an Assistant Clinical Professor of Pediatrics at UCSF and helps the direct the outpatient experience for the UCSF Pediatrics Clerkship site in Marin.
Dr. Branco has been an FAAP and an active member of our chapter for many years. He has served as co-chair of the Young Physicians and CME committees, as well as Member at Large for the North Coast region. At the AAP National level, he is a former member of the Committee of Native American Child Health and the current chair of the Indian Health Special Interest Group. In addition to his AAP and UCSF duties, Dr. Branco is the chair of the Meritage Medical Network Board of Directors and serves on the Marin General Hospital Finance Committee. He is also a member of the UCSF Clinically Integrated Network Board. Nelson and his wife Nell have three children and live in Marin. When he isn't working, sending emails or attending meetings, he enjoys spending time with his family, cycling, traveling and reading. He can regularly be found on the roads and trails of Marin on a bike, or riding in a charity event somewhere.
Lisa Patel, MD, FAAP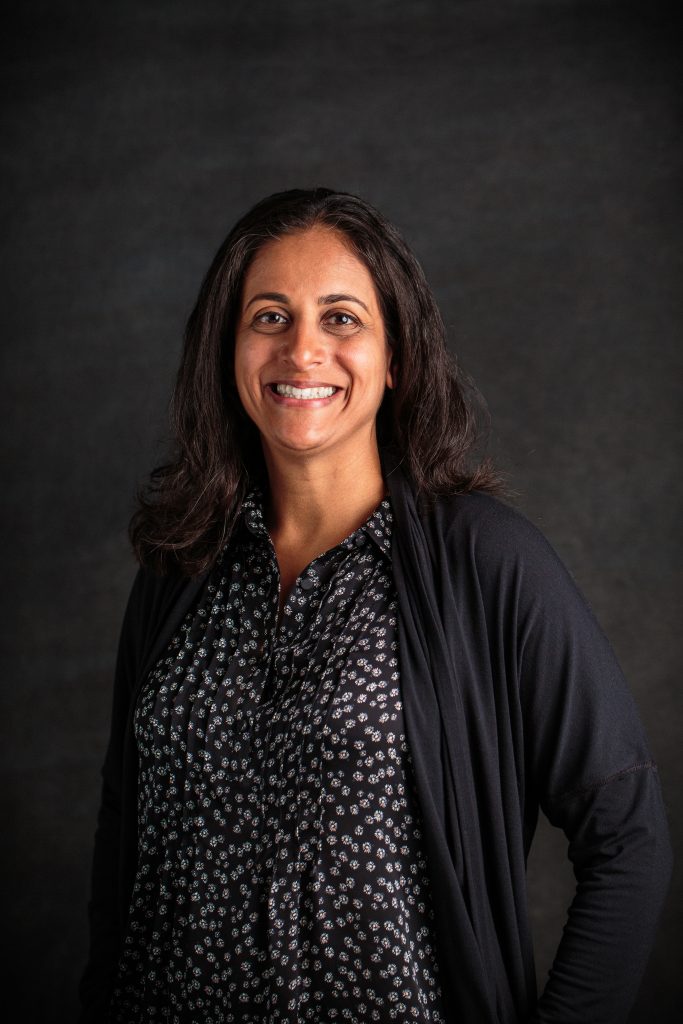 Lisa Patel received her undergraduate degree in Biological Sciences from Stanford University, a Master's in Environmental Sciences from the Yale School of Forestry, and her medical degree from Johns Hopkins University.  She completed her residency in pediatrics at UCSF.  She was a Presidential Management Fellow for the Environmental Protection Agency, coordinating the US Government's efforts on clean air and safe drinking water projects in South Asia in collaboration with the World Health Organization. She is previously the co-chair for the American Academy of Pediatrics Advocacy Committee, California Chapter 1 (AAP-CA1) and in her time helped launch the inaugural Advocating for Children Together conference for Northern California that is now a yearly occurrence. She co-founded the Climate and Health task force for AAP-CA1, and is the Advocacy and Policy Lead for the Sean Parker Center for Allergy and Asthma Research where she focuses her efforts on climate change and health. She serves on the Executive Committee for the AAP's national Council on Environmental Health.  She is also the rotation director for the pediatric resident's Community Pediatrics and Child Advocacy Rotation.