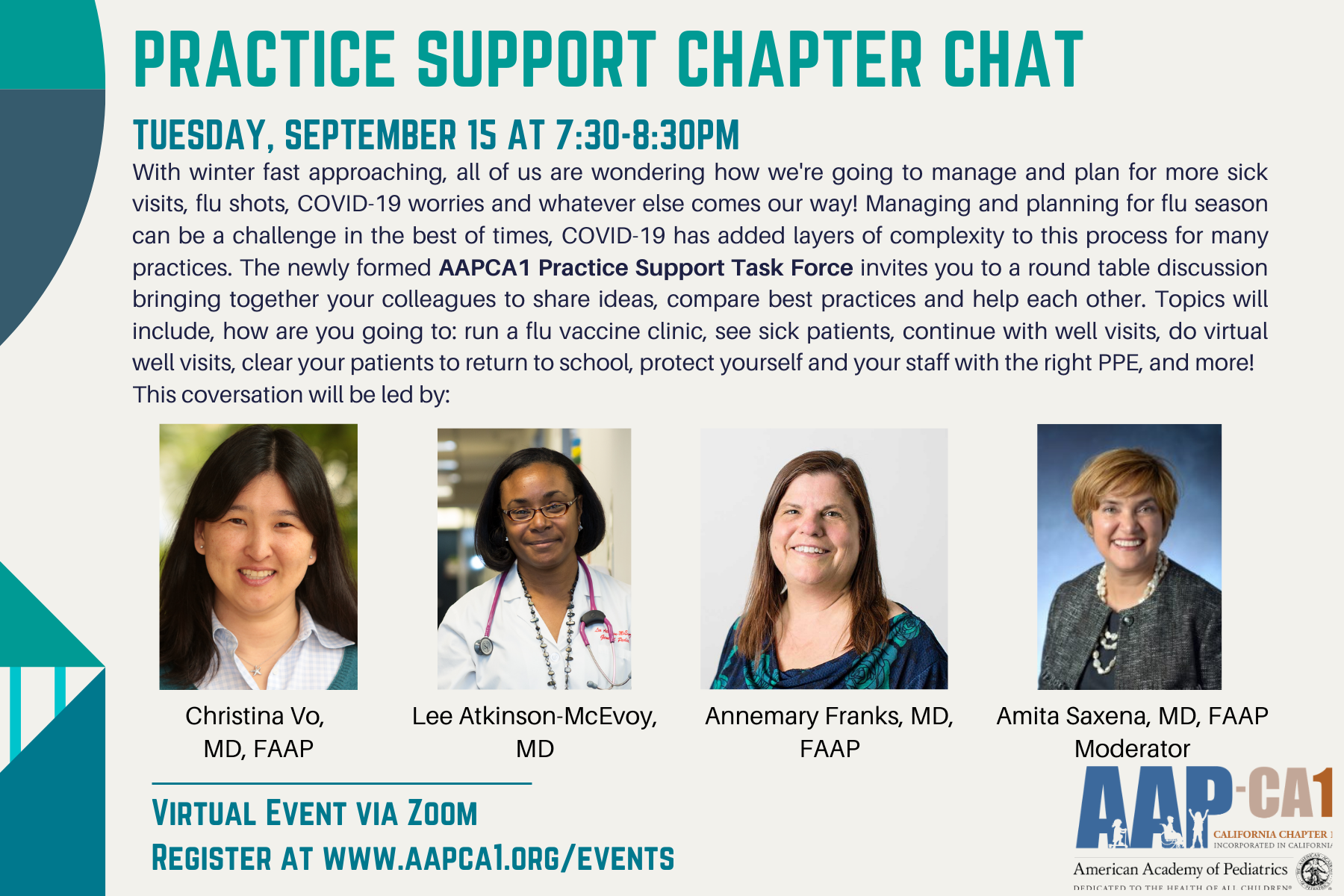 Practice Support Chapter Chat
Tuesday, September 15, 2020
7:30 pm - 8:30 pm
With winter fast approaching, all of us are wondering how we're going to manage and plan for more sick visits, flu shots, COVID-19 worries and whatever else comes our way! Managing and planning for flu season can be a challenge in the best of times, COVID-19 has added layers of complexity to this process for many practices. The newly formed AAPCA1 Practice Support Task Force invites you to a round table discussion bringing together your colleagues to share ideas, compare best practices and help each other. Topics will include, how are you going to:
run a flu vaccine clinic?

see sick patients?

continue with well visits?

do virtual well visits?

clear your patients to return to school?

protect yourself and your staff with the right PPE?

and more…
Meet Our Panelists:
Christina Vo, MD, FAAP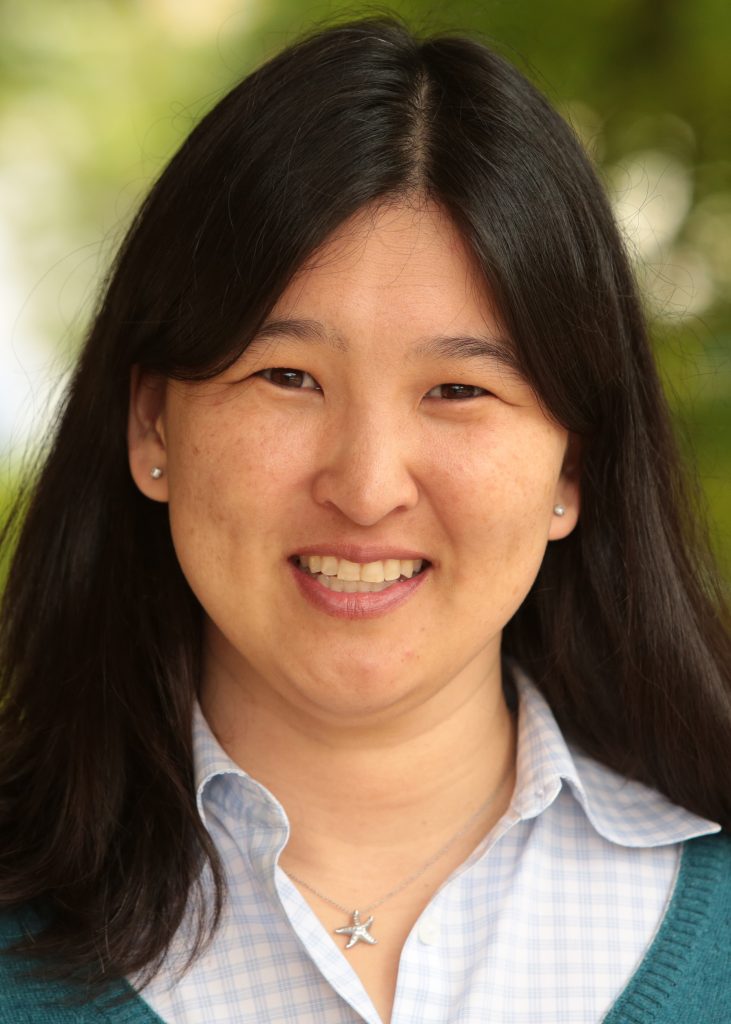 Christina Vo, MD, FAAP is the managing partner of East Bay Pediatrics, an independent private practice in Berkeley and Orinda. She completed her residency locally at Children's Hospital Oakland (now UCSF Benioff Children's Hospital – Oakland). She has served as the District representative to the AAP Section on Young Physicians and had the opportunity to sit in on AAP National Board meetings. She also led the Life After Residency Program for AAP-CA1 for several years. Four years ago she was honored by the AAP for her Vote for Kids campaign which involved filming elementary school children on why adults should vote and what issues most affected kids.
Lee Atkinson-McEvoy, MD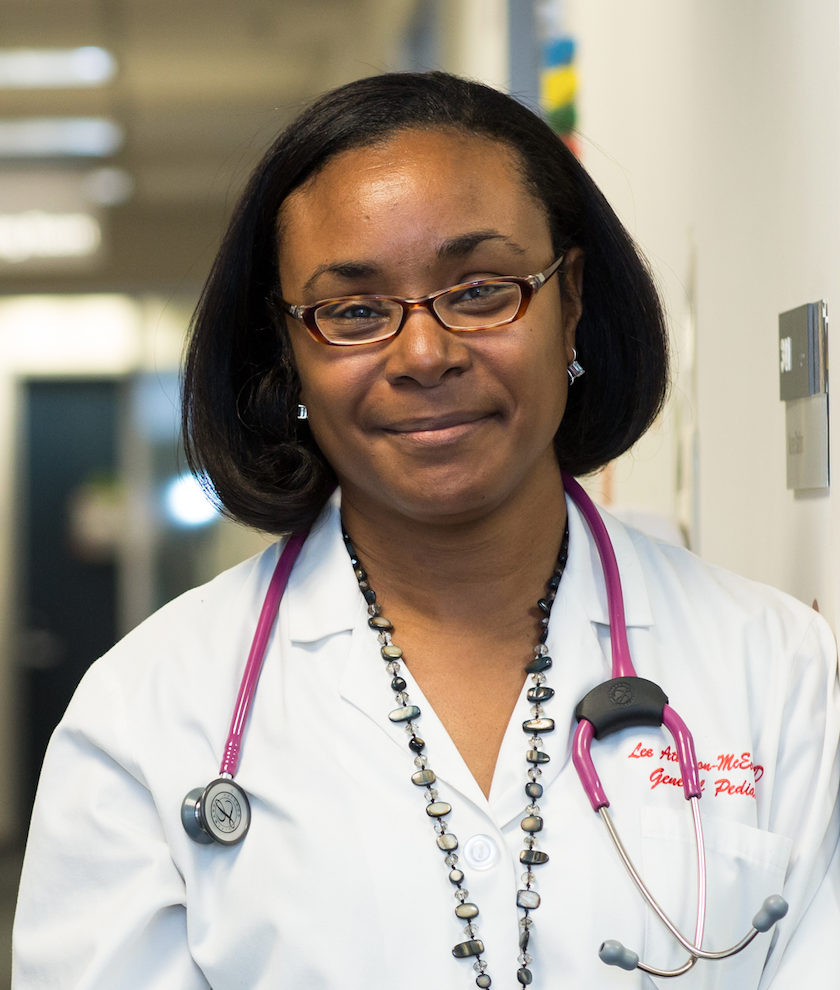 Lee Atkinson-McEvoy, MD is a Professor of Clinical Pediatrics at UCSF.  She is Chief of the Division of General Pediatrics and Vice Chair and Executive Medical Director of Pediatric Primary Care and Population Health.
Annemary Franks, MD, FAAP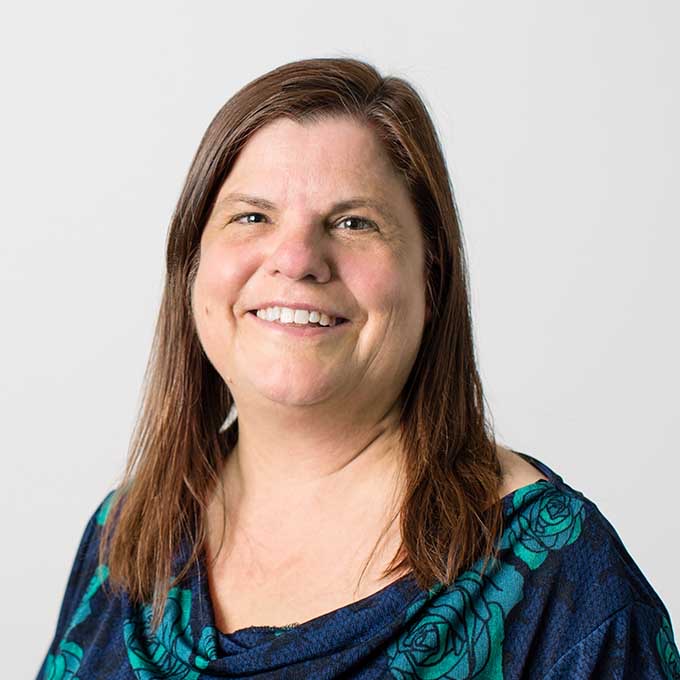 Annemary Franks is a long time pediatrician with Berkeley Pediatrics (a 78 yo practice) in, you guessed it, Berkeley, CA.  She is a  physician lead for the practice, previous Associate Medical Director for Alta Bates Medical Group and Brown and Toland Medical Group and especially enjoys her most important role as wife and mother of three wonderful young women.
Amita Saxena, MD, FAAP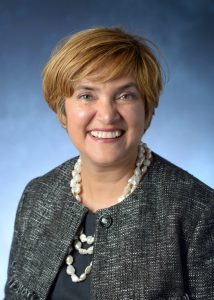 I am a general pediatrician practicing in RWC since 1996, in 2011 I opened a private single-specialty small group practice [Pediatric Wellness Group] with my good friend and colleague Dr. Eileen Chan. I did undergrad in biochem at UC Berkeley, got a Master's in cell biology from SFSU then went on to med school in St. Louis. I came back to CA to do residency at Stanford which is where I met Eileen. In 2016 I went back to school for an MBA at Santa Clara University which has been very helpful with managing the business side of things. Over the years I've participated in different organizations including: the American Academy of Pediatrics where I was a faculty presenter in 2016 and 2017 [Co-presented session on Practice Make-over for pediatricians at the annual National Conference], American College of Physician Executives, San Mateo County Medical Association [president 2013-2014] SQCN Board of Directors [chairperson 2013 to 2017], Advisory Board for SPN IPA, Physician Strategy and Advisory Board for Dignity Health. COVID reinforced the need for me to have some outside hobbies! I love to travel, read, hike, swim, cook, dance, garden, solve puzzles, arts and crafts, spend time with family and friends and spoil my dogs.
Register