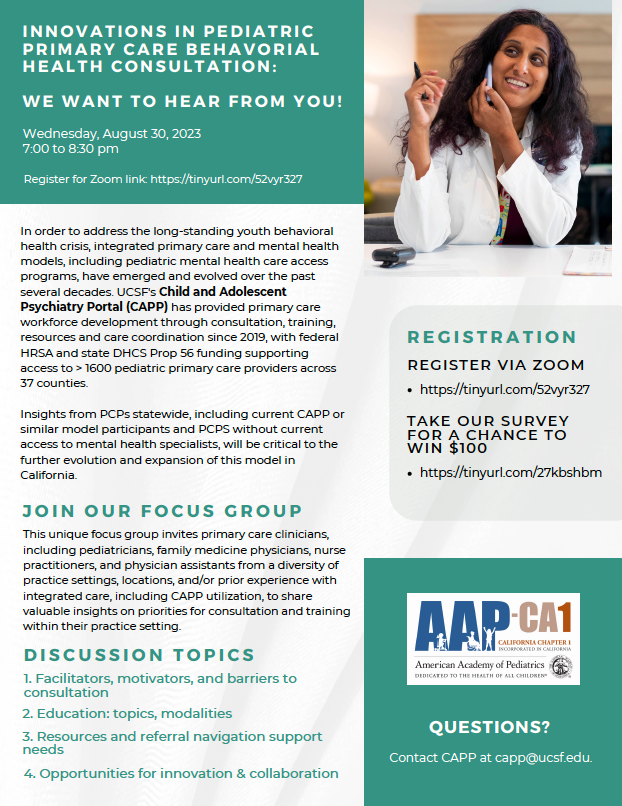 Innovations in Pediatric Primary Care, Behavioral Health Consultation: We Want to Hear From You!
Wednesday, August 30, 2023
7:00 pm - 8:30 pm
Join us on Wednesday, August 30, 7:00-8:30 pm, for an interprofessional Chapter Chat hosted by AAPCA1. We extend a special invitation to all California-based primary care providers, including pediatricians, family medicine physicians, nurse practitioners, physician assistants and other PCPs who treat youth age 0-25 (AAP membership is not required for participation).
During this Chapter Chat, a brief overview of integrated care models, including the 
University of California San Francisco Child & Adolescent Psychiatry Portal (UCSF CAPP)
pediatric mental health care access program will be followed by small, facilitated breakout groups where PCPs can share their needs, facilitators, motivators and barriers to engagement with mental health care consultation and training.  This is a unique opportunity to share insights specific to your practice setting, and we hope you will join your PCP colleagues from throughout the state.
BACKGROUND
In order to address the long-standing youth behavioral health crisis, integrated primary care and mental health models, including pediatric mental health care access programs, have emerged and evolved over the past several decades. UCSF's Child and Adolescent Psychiatry Portal (CAPP) has provided primary care workforce development through consultation, training, resources and care coordination since 2019, with federal HRSA and state DHCS Prop 56 funding supporting access to > 1600 pediatric primary care providers across 37 counties.
Insights from PCPs statewide, including current CAPP or similar model participants and PCPS without current access to mental health specialists, will be critical to the further evolution and expansion of this model in California.
JOIN OUR FOCUS GROUP
This unique focus group invites primary care clinicians, including pediatricians, family medicine physicians, nurse practitioners, and physician assistants from a diversity of practice settings, locations, and/or prior experience with integrated care, including CAPP utilization, to share valuable insights on priorities for consultation and training within their practice setting.
Take our survey for a chance to win $100:
DISCUSSION TOPICS
1. Facilitators, motivators, and barriers to consultation
2. Education: topics, modalities
3. Resources and referral navigation support needs
4. Opportunities for innovation & collaboration
QUESTIONS?
Contact CAPP at capp@ucsf.edu.