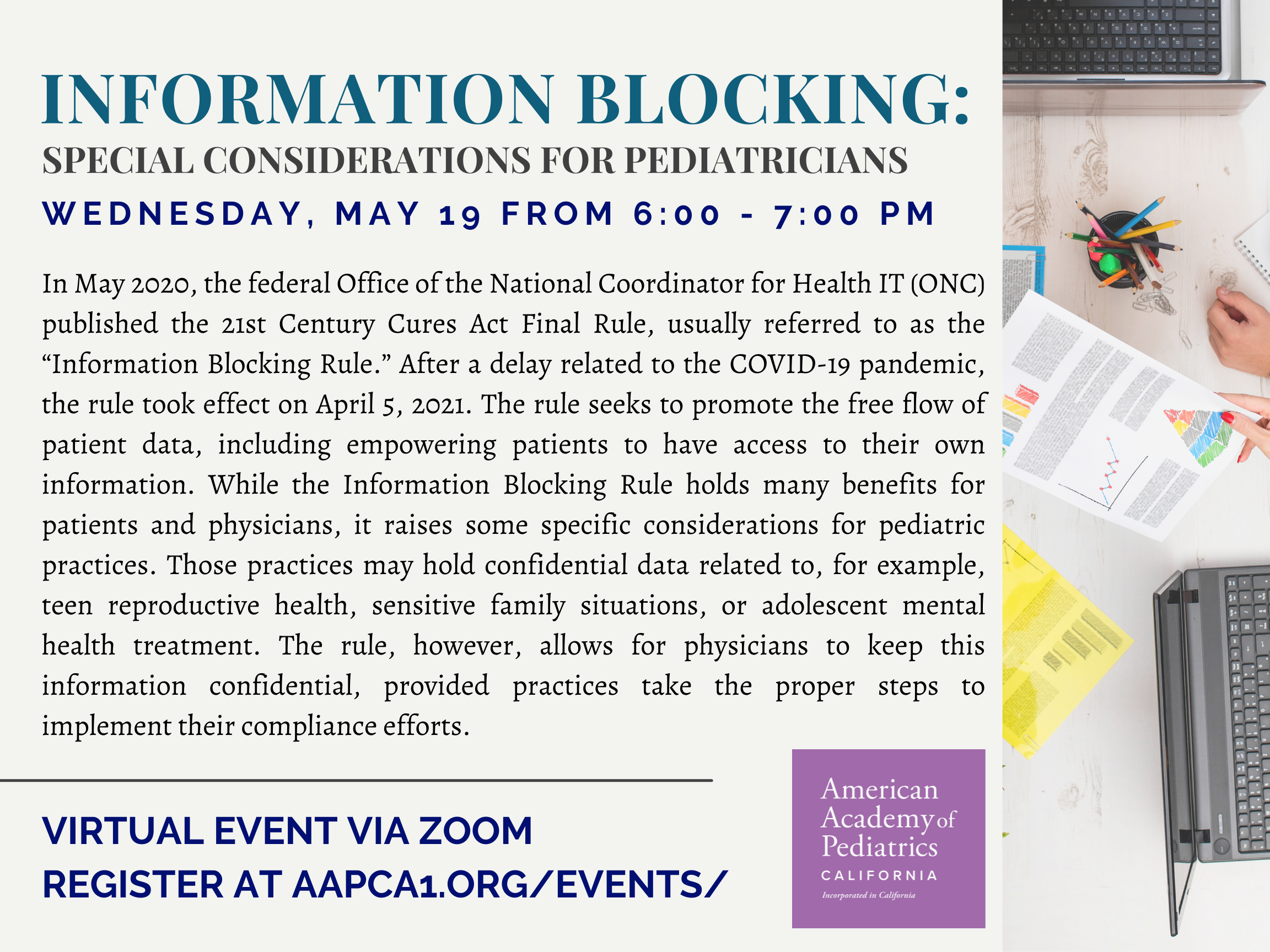 Information Blocking: Special Considerations for Pediatrics
Wednesday, May 19, 2021
6:00 pm - 7:00 pm
In May 2020, the federal Office of the National Coordinator for Health IT (ONC) published the 21st Century Cures Act Final Rule, usually referred to as the "Information Blocking Rule." After a delay related to the COVID-19 pandemic, the rule took effect on April 5, 2021. The rule seeks to promote the free flow of patient data, including empowering patients to have access to their own information. While the Information Blocking Rule holds many benefits for patients and physicians, it raises some specific considerations for pediatric practices. Those practices may hold confidential data related to, for example, teen reproductive health, sensitive family situations, or adolescent mental health treatment. The rule, however, allows for physicians to keep this information confidential, provided practices take the proper steps to implement their compliance efforts.
---
Presenters:
Susan J. Kressly, M.D., FAAP
Dr. Kressly is board certified in Pediatrics and Clinical Informatics and is a Fellow of the American Academy of Pediatrics. She received her medical degree from Temple University School of Medicine and served her residency from St. Christopher's Hospital for Children, where she stayed an additional year as Chief Pediatric Resident.
David Ford, Vice President of Health Information Technology, CMA
David is a nationally recognized health information technology expert. He develops CMA's thought leadership in all aspects of health IT, including electronic health records, health information exchange and telehealth.
Jessica Rubenstein, Associate Director of Health Policy, CMA
Jessica Rubenstein is an Associate Director, Health Policy at CMA, where she focuses on payor issues, Medi-Cal, and health information technology. Prior to joining CMA, Rubenstein served as Legal Counsel for Planned Parenthood Affiliates of California. She holds a BA from Yale University, an MA from Central European University, and a JD from New York University School of Law.
Register