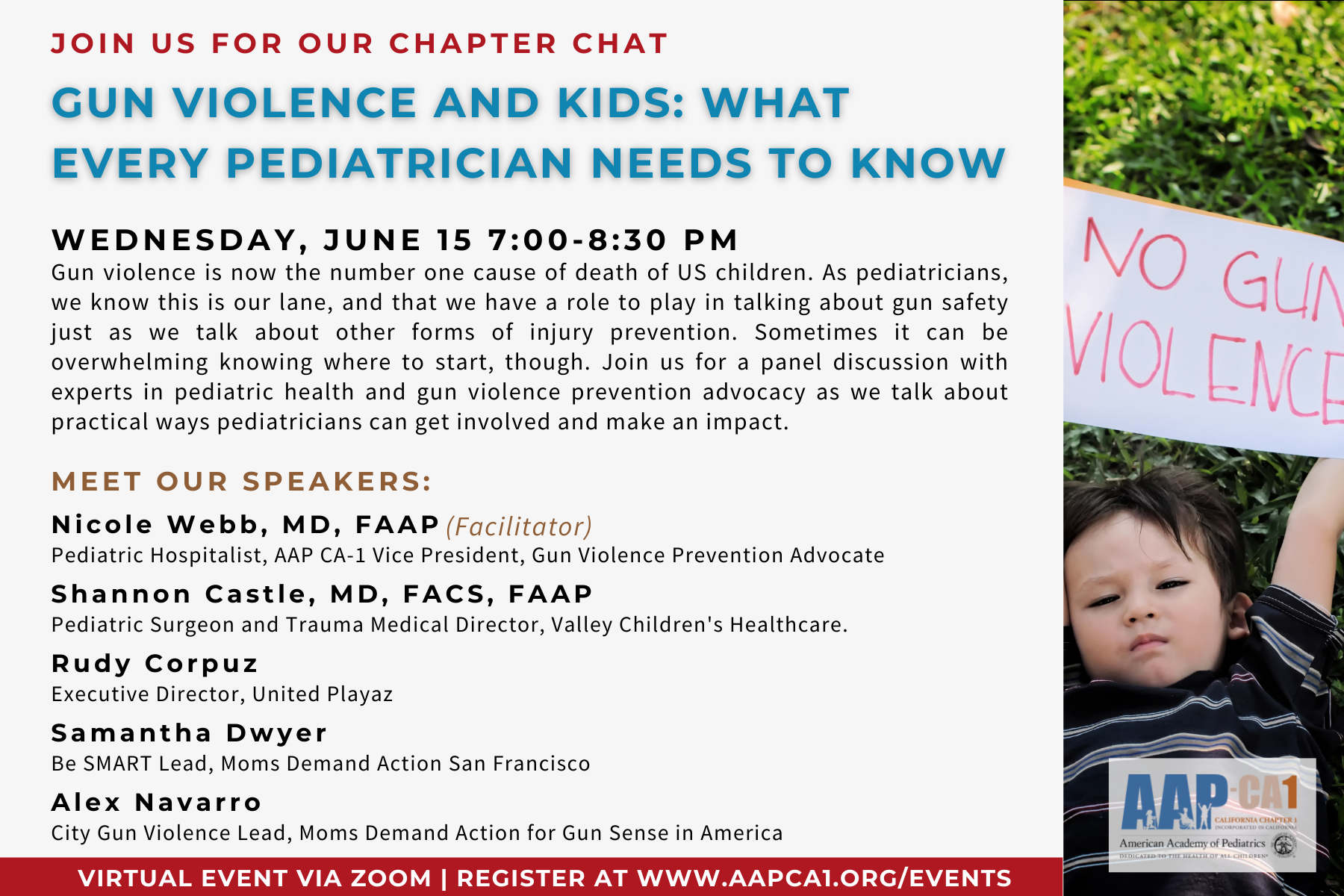 Gun Violence and Kids: What Every Pediatrician Needs to Know
Wednesday, June 15, 2022
7:00 pm - 8:30 pm
Gun violence is now the number one cause of death of US children. As pediatricians, we know this is our lane, and that we have a role to play in talking about gun safety just as we talk about other forms of injury prevention. Sometimes it can be overwhelming knowing where to start, though. Join us for a panel discussion with experts in pediatric health and gun violence prevention advocacy as we talk about practical ways pediatricians can get involved and make an impact.
Meet Our Speakers!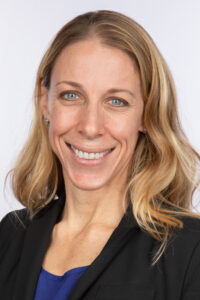 Shannon Castle, MD, FACS, FAAP, Pediatric Surgeon and Trauma Medical Director, Valley Children's Healthcare
Dr. Castle serves as Medical Director for Trauma at Valley Children's Hospital and is active in regional trauma collaboration and education. She is active in teaching UCSF-Fresno surgical residents as well as the pediatric trainees at Valley Children's. Dr. Castle's research interests focus on pediatric trauma, critical care and injury prevention.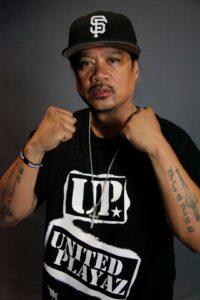 Rudy Corpuz,
Executive Director, United Playaz
Born and raised in San Francisco, Rudy Corpuz Jr. is the Founder and Executive Director of United Playaz. As an ex-felon, Rudy got involved in the Second Chance program of the Extended Opportunity Program Services (EOPS) at SF City College. United Playaz was able to recently purchase their building and Rudy is now a stakeholder in Soma and is working hard to build up the community that he once destroyed.  Rudy feels blessed to serve with the people and believes strongly in the UP motto that "It takes the hood to save the hood".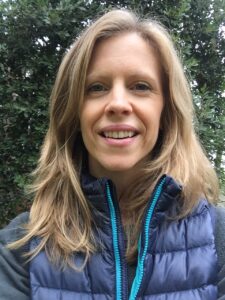 Samantha Dwyer, Be SMART Lead, Moms Demand Action San Francisco
Samantha Zinober is a Moms Demand Action Volunteer. She works as the San Francisco Lead for Be SMART, a public health campaign started by Moms Demand Action to provide education and resources about secure firearm storage. She connects with individuals, parent groups, community groups, schools, and medical and safety organizations to advocate and educate about secure storage methods and laws in order to reduce child gun deaths. She also recently became a National Trainer for Moms Demand Action on Extreme Risk Protection Orders. Sam is a mom of 3. She grew up in a gun owning household in Salt Lake City, Utah, and identifies as a gun violence survivor.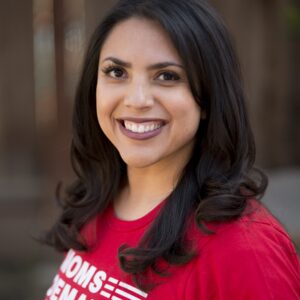 Alex Navarro, City Gun Violence Lead, Moms Demand Action for Gun Sense in America
Alex Navarro is a volunteer with the California chapter of Moms Demand Action. She is a first-generation American and the daughter of Nicaraguan immigrants. As a San Francisco native, mother, and member of the LGBTQ community, Alex is proud to have been the very first City Gun Violence Lead in the country for Moms Demand Action where her focus is to work with violence intervention and prevention organizations and help raise awareness for underrepresented groups whose lives are affected daily by senseless acts of violence.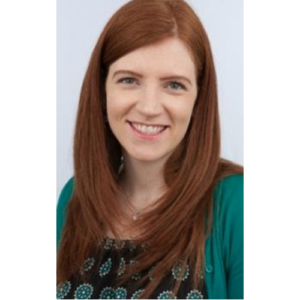 Nicole Webb, MD, FAAP,
Pediatric Hospitalist, AAP CA-1 Vice President, Gun Violence Prevention Advocate
Dr. Webb has been a member of the AAP and active in advocacy since her pediatric residency at UCLA. She is a practicing pediatric hospitalist and academic co-chief for hospital medicine at Valley Children's Hospital in Madera, CA. Dr. Webb is also active within the Section on Early Career Physicians, Section on LGBT Health and Wellness, and the Council on Injury, Violence, and Poisoning Prevention. She is a respected and vocal advocate for firearm injury prevention, both within the healthcare sphere and the broader community, and was invited to participate as an AAP and pediatric representative in the Bulletpoints Project through the UC Davis Firearm Violence Research Center.