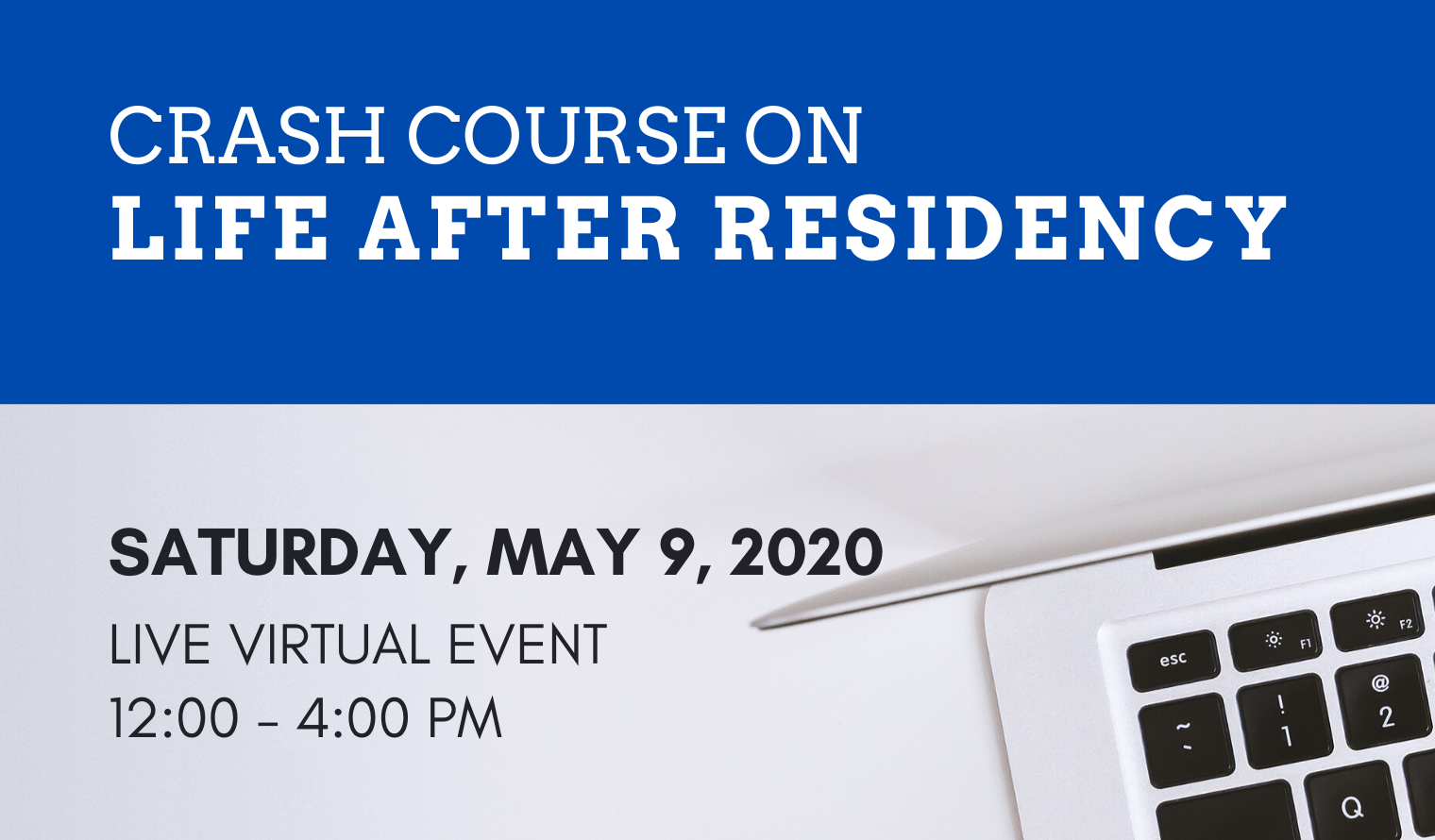 Crash Course on Life After Residency
Saturday, May 9, 2020
12:00 pm - 4:00 pm
Join us for this crash course on Life After Residency covering topics from boards, MOC, contract considerations to financial planning and what to expect in interviews.
(Mentors can attend the full event or join only for the mentorship aspect at 3 – 4 PM)
PROGRAM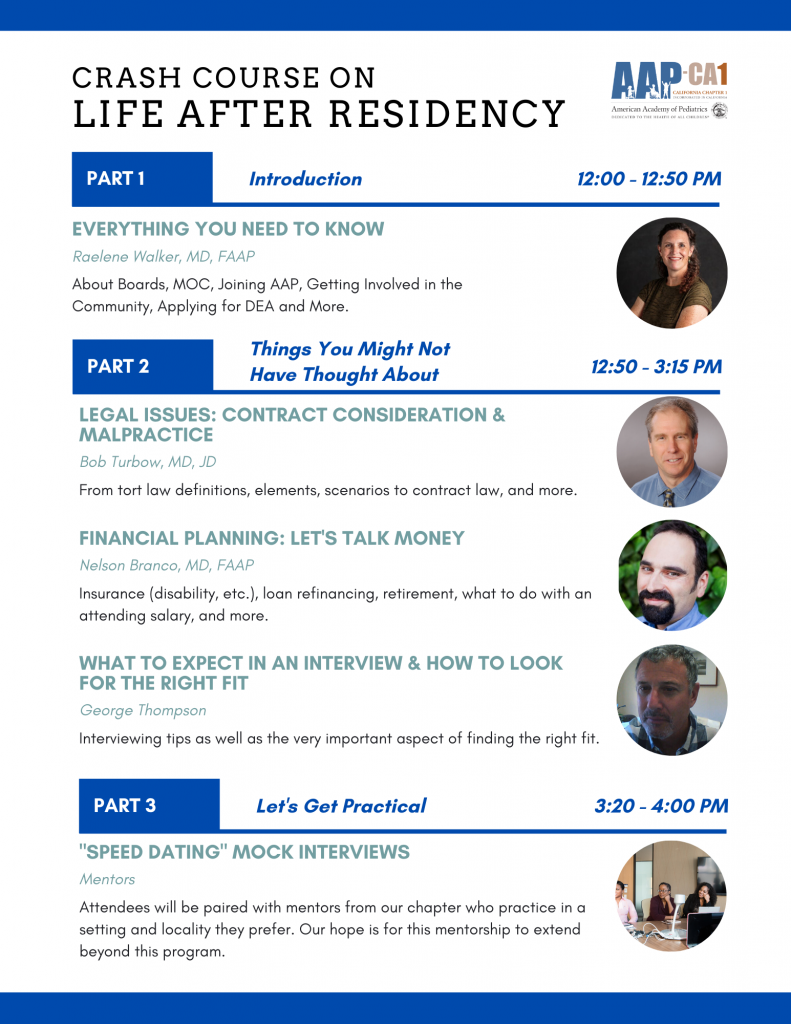 ABOUT OUR SPEAKERS
Nelson Branco, MD, FAAP
Dr. Branco is originally from Massachusetts and received his undergraduate degree in psychology from Boston University, followed by an MD at the Boston University School of Medicine. He completed his pediatric residency at Children's Hospital Oakland. After finishing his residency, he and his wife Nell moved to Shiprock, NM and worked for the Indian Health Service on the Navajo Nation for three years. After returning to California in 2001, he practiced at the Marin Community Clinics and also worked for the Pediatric After Hours Clinic and at Marin General Hospital as a Pediatric Hospitalist. In 2005, Dr. Branco joined Tamalpais Pediatrics and became the managing partner in 2006. He is an Assistant Clinical Professor of Pediatrics at UCSF and helps the direct the outpatient experience for the UCSF Pediatrics Clerkship site in Marin.
Dr. Branco has been an FAAP and an active member of our chapter for many years. He has served as co-chair of the Young Physicians and CME committees, as well as Member at Large for the North Coast region. At the AAP National level, he is a former member of the Committee of Native American Child Health and the current chair of the Indian Health Special Interest Group. In addition to his AAP and UCSF duties, Dr. Branco is the chair of the Meritage Medical Network Board of Directors and serves on the Marin General Hospital Finance Committee. He is also a member of the UCSF Clinically Integrated Network Board. Nelson and his wife Nell have three children and live in Marin. When he isn't working, sending emails or attending meetings, he enjoys spending time with his family, cycling, traveling and reading. He can regularly be found on the roads and trails of Marin on a bike, or riding in a charity event somewhere.
George Thompson
Mr. Thompson is a Human Resources Executive with over 20 years of human resources experience, including recruitment and retention, conflict resolution, change management, labor relations, and risk management. He is currently Director of Human Resources at Institute on Aging, a non-profit dedicated to preserving dignity, independence and well-being to aging adults.
Bob Turbow, MD, JD
Dr. Turbow is a practicing neonatologist and has current board certification in pediatrics and neonatal-perinatal medicine. His medical education and training include University of Southern California School of Medicine, Stanford University Hospital, University of Colorado, and University of California-Irvine. He also attended Santa Clara University School of Law and is a member of the California State Bar. He is Chief Patient Safety Officer at three hospitals on the Central Coast of California. Since completing his Just Culture certification in 2012 and High Reliability certification in 2016, he has trained hospital leadership, including board members, presidents, COO/CNE's, and directors/managers/supervisors. He has also introduced the Just Culture and High Reliability principles to thousands of hospital employees.
Raelene Walker, MD, FAAP
Dr. Walker has been an outpatient and hospitalist pediatrician in Santa Cruz, CA since 2002 and will also be the pediatric medical director for a new pediatric hospice program in Santa Cruz County starting fall of 2019. She is originally from rural Oregon but attended college at Stanford University majoring in biology and feminist studies. She attended medical school at Columbia University in New York City and then returned to California for her pediatric residency at Children's Hospital Oakland. That was followed by a chief resident year in which she was part of the emerging pediatric hospitalist program. She has a long-standing interest in children's issues, women's issues and social justice. She worked with the children of migrant farm workers as an adolescent and volunteered for a year prior to medical school as a development volunteer at a nonprofit organization called Los Ninos in Mexico. She has been very active in local pediatric care, serving as Chair of Dominican Hospital Santa Cruz Pediatric Quality Improvement Committee for 2 years, Chair of the Dominican Hospital Pediatric Service for 2 additional years and as Pediatric Medical Director for Dominican Hospital Santa Cruz for 3 years. In addition, she has been a proud AAP member since 1995 and was part of the AAP Chapter 1 Board as Member at Large for the Monterey Bay region for 2 terms, in 2005 and again in 2010 and was AAP Chapter 1 Vice President for 2 years beginning in 2017.
She adores spending time with her children, Ben and Anna, and shuttling them to activities and enjoys reading, music, hiking and running.
(Mentors can attend the full event or join only for the mentorship aspect at 3 – 4 PM)