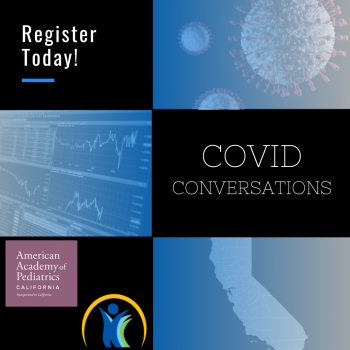 COVID Conversations: Preparing California for the COVID-19 Immunizations
Wednesday, January 13, 2021
6:00 pm - 7:00 pm
The California Immunization Coalition, in partnership with the AAP-California, will be holding our second COVID Conversations webinar next Wednesday at 6 PM. Our presenters will be Dr. Oliver Brooks and Dr. Robert Schechter, the two co-chairs of the California COVID-19 Vaccine Drafting Guidelines Workgroup, the committee tasked with prioritization and distribution of the vaccine. The one-hour webinar will focus on the logistics and prioritization of the vaccine roll-out, a very hot topic right now.
Meet Our Speakers:
Oliver Brooks MD,
Chief Medical Officer,Watts HealthCare Corporation
Dr. Brooks is a present Board member and Past President of the California Immunization Coalition and Chairman of the Immunize LA Families Coalition. He is a member of the national Leadership Panel for the Adolescent Immunization Initiative (AII), which advocated successfully for adding a column on the ACIP's yearly vaccine recommendations in 2017. Dr. Brooks also has joined the Health and Human in June 2020, Dr. Brooks asked to, and joined the ACIP COVID-19 Work Group discussing and making recommendations to the ACIP regarding (potential) COVID-19 vaccine prioritization. Dr. Brooks is the immediate Past President of the National Medical Association (NMA), which represents the nation's 55,000 African-American physicians. Dr. Brooks is Chief Medical Officer and past Chief of Pediatric and Adolescent Medicine at Watts Healthcare Corporation in Los Angeles. He is a Medical Director for L.A. Care Health Plan, one of the nation's largest Medicaid managed care plans.
Robert Schechter MD,
Branch Chief, California Department of Public Health Immunization Branch
Dr. Schechter is Chief of the Immunization Branch for the California Department of Public Health (CDPH) and has been a medical officer with the CDPH since 2003. Dr. Schechter's work includes immunization program implementation and management, vaccine safety and post-marketing surveillance, vaccine communication, health information technology, immunization information systems (IIS), and vaccine research and development. Dr. Schechter has had managerial and consultative roles for CDPH's immunization programs, amongst the nation's largest, including the California Vaccines for Children Program. He is a member of the National Vaccine Advisory Committee (NVAC) which advises the U.S. Department of Health and Human Services and also serves on workgroups for the federal Advisory Committee on Immunization Practices (ACIP) which advises the Centers for Disease Control and Prevention. He is Fellow of the American Academy of Pediatrics and is involved in many important CDPH immunization initiatives including seasonal and pandemic influenza, pertussis and other emerging vaccine issues.
Register