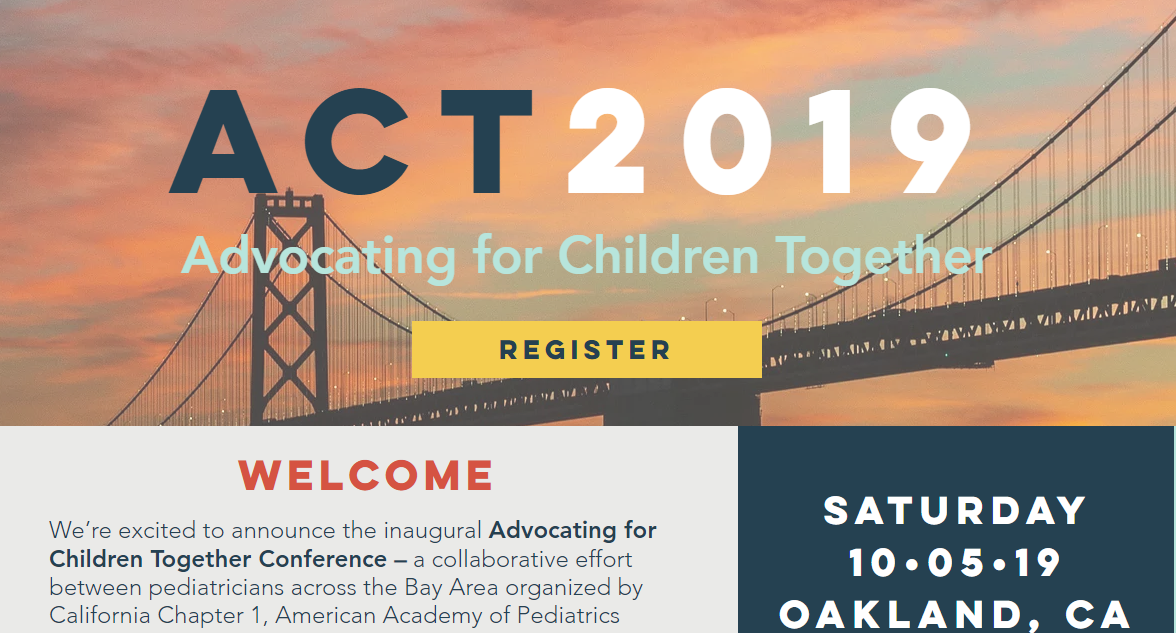 Advocating for Children Together
Saturday, October 5, 2019
8:00 am - 7:30 pm
UCSF Benioff Children's Hospital Oakland
We're excited to announce the inaugural Advocating for Children Together Conference—a collaborative effort between pediatricians across the Bay Area organized by California Chapter 1, American Academy of Pediatrics (AAPCA1) and sponsored by UCSF Benioff Children's Hospitals, Department of Community Health and Engagement at UCSF Benioff Children's Hospitals, the California Wellness Foundation, and Stanford Children's Health/Lucile Packard Children's Hospital. Join us in learning from advocacy extraordinaires and coming together to better serve the children and families from the Bay to the borders and beyond!
ABOUT THE CONFERENCE
The day will include a series of "Ted Talk" style lectures that provide brief overviews of important areas for advocacy for pediatricians, including gun control, mental health, adverse childhood events, and climate change, and police violence, and empower pediatricians to effectively message advocacy efforts, harness the power of social media, and collaborate with others for children's health issues.  In the afternoon, participants will break into smaller workshops led by local experts in politics, public health, and mass media to gain hands-on practice.
The day will end with a reception during which conference participants may continue to connect with fellow child advocates as well as utilize skills learned throughout the day to build relationships with and discuss child health issues with invited elected officials.
This conference will produce a community of pediatricians who are engaged and equipped to influence child health policy. It will also provide a networking opportunity for physicians to follow each other on various social media platforms, collaborate on op-eds, spark new research ideas that will influence policy decisions, and inspire each other to speak up and become change-makers.

SPEAKERS
Mark Del Monte, JD | Interim CEO and Executive Vice President of the AAP
A champion of child health advocacy, Mark Del Monte began his career partnering with pediatricians and providing direct legal services to HIV positive, low-income children and families in Oakland and now serves an executive role at the AAP.
Tomás J Aragón, MD, MPH, DrPH | Director of Population Health Division at the San Francisco Department of Public Health & Health Officer of the City and County of San Francisco
An experienced public health executive, leader, and medical epidemiologist, Dr. Aragón directs public health services for San Francisco and works improve population health and health equity.
Dayna Long, MD | Pediatrician at UCSF Benioff Children's Hospital Oakland
Dr. Long is the co-founder and director of the Family Information and Navigation Desk (FIND)–a collaborative program working to minimize the social and environmental factors that negatively affect the health of children and their families.
Rhea Boyd, MD | Pediatrician at Palo Alto Medical Foundation
Dr. Rhea Boyd authors the blog Rhea.MD, where she critically engages the intersections of race, gender, politics, tech innovation, and health. She is also on the American Academy of Pediatrics Executive Committee on Communications and Media where she is interested in exploring how digital clinical tools, interdisciplinary partnerships, and social media can incorporate diverse types of data and voices into traditional processes to improve health, particularly for communities of color.
Aaron Nayfack, MD | Developmental and Behavioral Pediatrician Palo Alto Medical Foundation
Dr. Aaron Nayfack is a member of the Board of Directors for the Sequoia Health Care District.
Thomas Newman, MD, MPH | Climate Change
Dr. Tom Newman has been a member of Physicians for Social Responsibility (PSR) for almost 40 years, initially focused on nuclear disarmament, but for the last 15 years also on climate change. He chairs the SF Bay Area PSR Environmental Health Committee, has been a leading advocate for sustainability at UCSF, and co-developed a course on climate change for UCSF medical students. His research focuses on improving health care value, something he sees as essential for the sustainability of our healthcare system.
WORKSHOPS
Berkeley Media Studies Group
A nonprofit founded in 1993 to help public health professionals and community groups use power of the media to advance public health, BMSG has worked with organizations on a range of issues, including violence and injury prevention, alcohol, tobacco, children's health, child care, affirmative action, food and activity environments, health inequities and sexually transmitted diseases.  BMSG will be leading two workshops:
BMSG Didactic – Using the media to advance advocacy goals and deliver strategic messages.  This workshop will teach participants how to recognize the news media's role in shaping debates on health and advocating for change, identify media tactics to create change at the policy level, and develop strategic messages for advocacy.
BMSG Media Spokesperson Training – In this workshop, you will learn how to be interviewed for your advocacy issue of passion. You will be interviewed live and be provided real-time feedback.
AAPCA Priorities
Join Kris Calvin, CEO of AAP-CA, as we discuss the terrain of California legislation supporting child health. We will discuss current issues, then dive into shaping priorities for AAP-CA in 2020!
Writing an AAP Annual Leadership Forum Resolution
Resolutions are formal ways to bring new ideas, issues, and solutions to the forefront of discussion within the AAP at Chapter, District, and National levels. Learn how to draft and submit a resolution for the AAP ALF from Paula Whiteman, MD, FAAP, FACEP, veteran resolution-writer (including several voted top 10 nationwide), current District IX Vice Chairperson, and former AAP-CA Chapter 2 President. Twitter: @DrPaulaWhiteman
Online Publications and Doctor Blogs
Digital publishing builds an online presence for important child health issues. Meet Dr. Patricia Salber, internist, emergency medicine physician, and founder and CEO of The Doctor Weighs In, an award-winning mobile/online platform that shares stories about health care innovation. She will teach about why online publications matter, what online editors are looking for, how to choose the right outlet for your article, and more. Come with an idea, and leave with a game plan (and maybe a solid draft, too)!
Op-Eds
Op-Eds can change minds! Learn how to frame your issue of passion using your experience and knowledge as a pediatrician to change the public discourse. This workshop will be led by Louis Freedberg (Executive Director) and Smita Patel (Director of Communications and Partnerships) of EdSource — a nonprofit, nonpartisan organization which reports on education in California and has the largest team of education reporters in the state. Together they have extensive experience in reporting and hold accolades in journalism. They are excited to help you get your next piece published!
Micro-Mentoring
Sit down for a series of one-on-one sessions with advocacy greats in the Bay Area. Glean advice about how to maximize impact on the child health issues that matter most to you, navigate your career, and build connections. Like speed dating, but better!
Develop an Advocacy Strategy
Learn how to create a strategic plan involving legislation, media, education campaigns or other tools to create substantive policy change. This workshop will be led by Sanjay Ranchod, a member of the San Francisco Bay Conservation and Development Commission, a state agency, and Senior Vice President and General Counsel for Firefly and Tim Valderrama, a California State Capitol veteran who has served in staff leadership roles in both the Senate and Assembly.
The AAP designates this live activity for a maximum of 6.0 AMA PRA Category 1 Credit(s)TM
This activity has been planned and implemented in accordance with the accreditation requirements and policies of the Accreditation Council for Continuing Medical Education (ACCME) through the joint providership of the American Academy of Pediatrics (AAP) and the California Chapter 1 of the AAP.  The American Academy of Pediatrics is accredited by the ACCME to provide continuing medical education for physicians. The AAP designates this live activity for a maximum of 6.0 AMA PRA Category 1 Credit(s)™. Physicians should claim only the credit commensurate with the extent of their participation in the activity. This activity is acceptable for a maximum of 6.0 AAP credits. These credits can be applied toward the AAP CME/CPD Award available to Fellows and Candidate Members of the American Academy of Pediatrics.  PAs may claim a maximum of 6.0 Category 1 credits for completing this activity. NCCPA accepts AMA PRA Category 1 Credit™ from organizations accredited by ACCME or a recognized state medical society. This program is accredited for 6.0 NAPNAP CE contact hours of which 0 contain pharmacology (Rx) content, (0 related to psychopharmacology) (0 related to controlled substances), per the National Association of Pediatric Nurse Practitioners (NAPNAP) Continuing Education Guidelines.
For questions regarding the event, please email aapadvocacyday@gmail.com.
If you would like to donate to this conference, you may do so HERE.