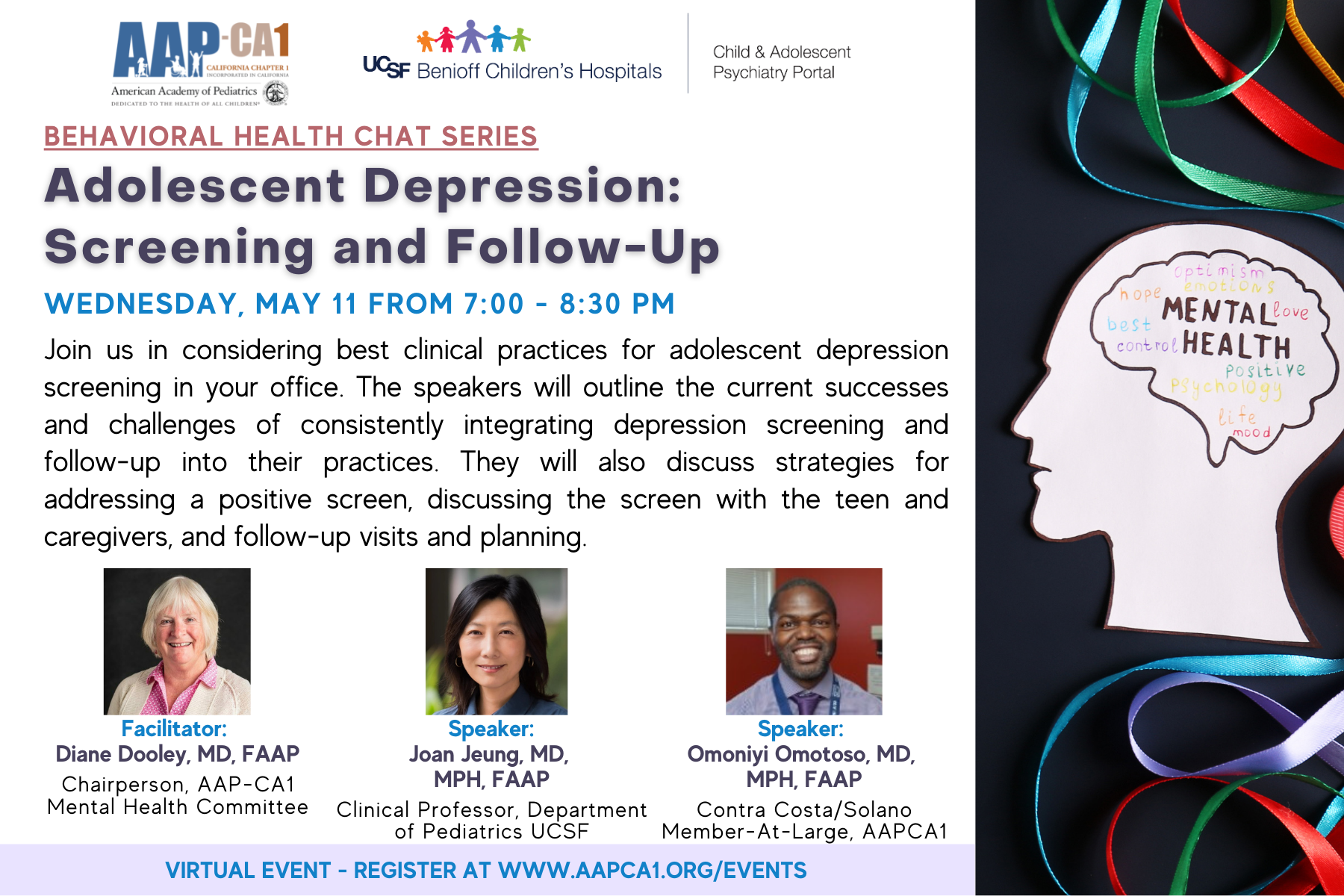 Adolescent Depression: Screening and Follow-Up
Wednesday, May 11, 2022
7:00 pm - 8:30 pm
Join us in considering best clinical practices for adolescent depression screening in your office.  The speakers will outline the current successes and challenges of consistently integrating depression screening and follow-up into their practices.  They will also discuss strategies for addressing a positive screen, discussing the screen with the teen and caregivers, and follow-up visits and planning. 
Meet Our Speakers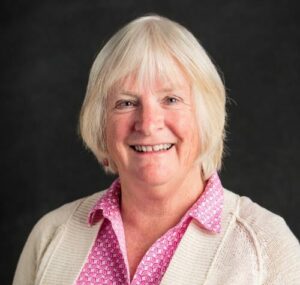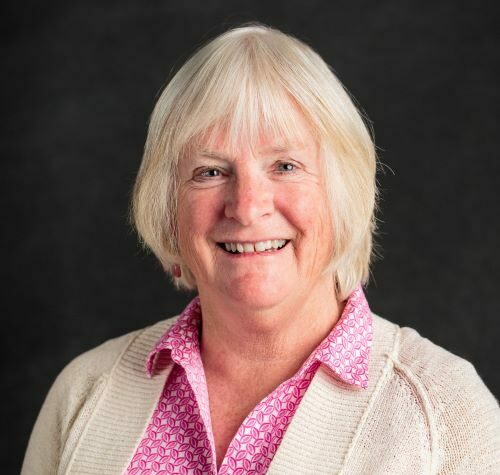 Diane Dooley, MD, MHS, FAAP  – Chairperson, AAPCA1 Mental Health Committee
Dr. Dooley is an active member of the American Academy of Pediatrics and an Associate Clinical Professor at the UCSF School of Medicine. She presently serves as the Chairperson of the AAP Chapter 1 Mental Health Committee and the AAP California Mental Health Advocacy Team. She was also recently appointed to the Think Tank for the California Department of Health Care Services Behavioral Health Virtual Services Platform. Now retired from her 35-year career serving low-income children at Contra Costa Health Services, she and her husband keep very busy caring for, and playing with their 5 young grandchildren and Golden Retriever, Sam.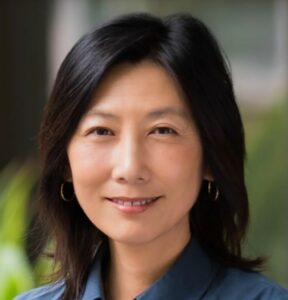 Joan Jeung, MD, MPH, FAAP – Clinical Professor, Department of Pediatrics UCSF
Dr. Joan Jeung is a clinical faculty member with UCSF's Department of Pediatrics/Division of Developmental Medicine. For the past decade, she has been engaged in advocacy for immigrant/refugee populations and projects to promote early childhood development and behavioral health integration in primary care. She developed and managed several innovative programs, including a group well-child care program to support newly arrived immigrant parents and their infants. Currently, she is engaged in multiple projects to deepen behavioral healthcare capacity and strengthen trauma-informed care practices in pediatric primary care. She is currently part of the executive committee for the American Academy of Pediatrics (AAP)'s' Provisional Section on Minority Health Equity and Inclusion (MHEI) and is a member of the advisory committee for the National Resource Center on Patient and Family-Centered Medical Home.
Omoniyi Omotoso, MD, MPH, FAAP – Contra Costa/Solano Member-At-Large, AAPCA1
Omoniyi Omotoso, MD, MPH, FAAP is a primary care pediatrician based at LifeLong William Jenkins Health Center and serves as the Associate Medical Director of Pediatrics for LifeLong Medical Care. After completing both pediatric residency and pediatric Infectious Diseases clinical fellowship at UCSF Benioff Children's Hospital Oakland, he obtained a master's in public health concentrating on epidemiology and biostatistics at the University of California – Berkeley. As the Pediatrics AMD at LifeLong, he currently oversees pediatric clinical care for children across 8 primary care sites and 4 school-based sites in Contra Costa and Alameda counties. Having always worked with underserved BIPOC communities, he is passionate about fostering trauma-healing and culturally aware medical homes in an integrated behavioral health team-based care model. Dr. Omotoso views a pediatrician's role as promoting preventive health for the patient-family unit in a collaborative manner with caregivers.